Hoensbroek Swimming Pool, formerly known as Zwemparadijs Otterveurdt, boasts two new spectacular waterslides. Watergames & More constructed two waterslides for the pool in the summer of 2020: A Challenger comprising a Dazzler, and a Voyager. The new waterslides should vouch for even more fun at the pool.
Tempting Challenger with Dazzler (cone)
The 81.3-metre-long Challenger tube slide has a diameter of 1200mm and a start height of 10.2 metres. The waterslide is equipped with daylight- and LED-effects. In addition, it is fitted with a start-stop system and touch points throughout its length. This encourages visitors to hit as many points as possible during their ride, in an attempt to achieve a high score. The waterslide is also equipped with time registration. This allows visitors to challenge themselves and others to set the fastest time.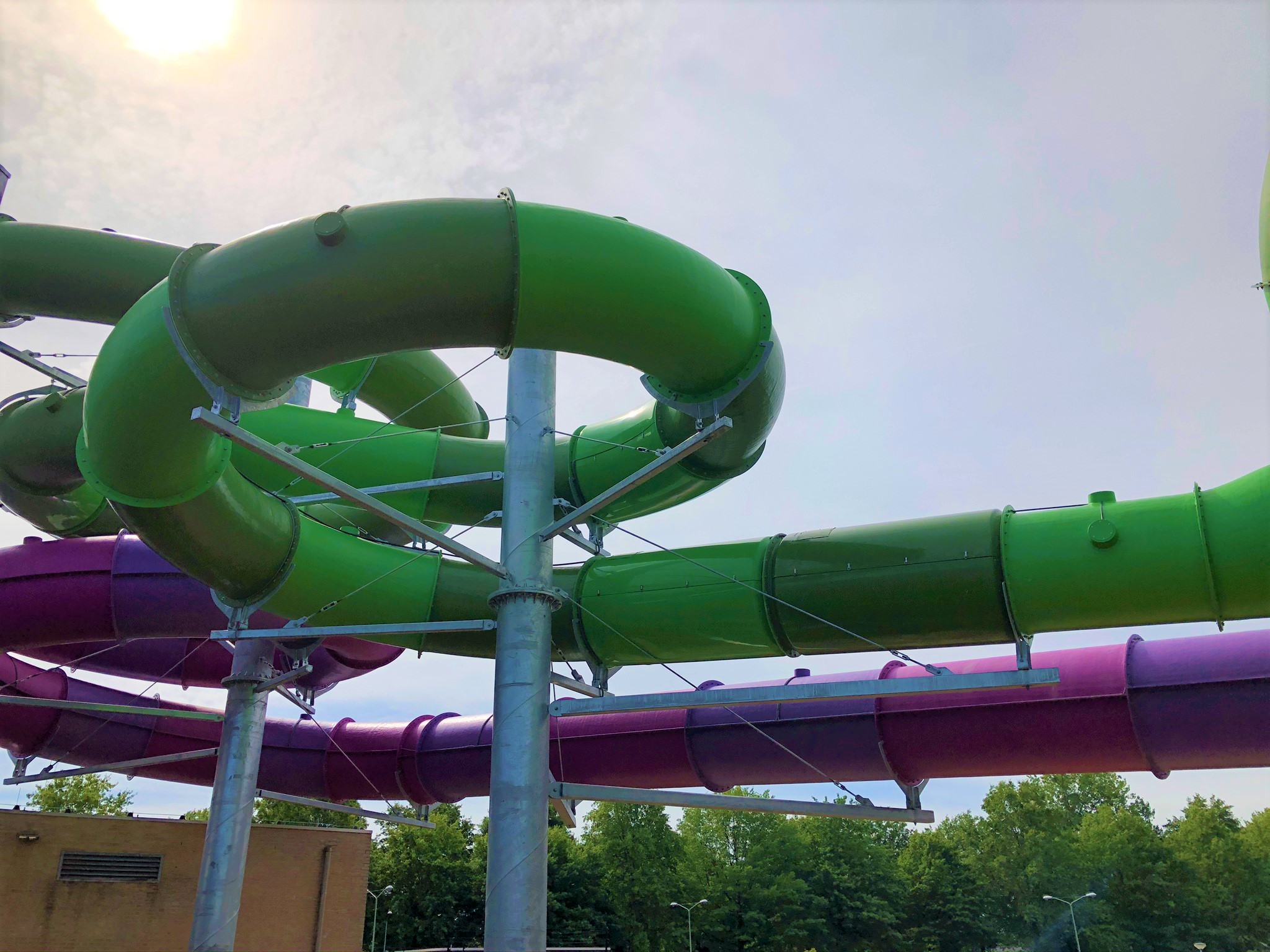 To make the waterslide even more spectacular, the Challenger is also equipped with a Dazzler. Visitors emerging from the Challenger slide up and around the Dazzler's cone-shaped walls, ultimately exiting into the tube. The addition of the Dazzler provides a special experience.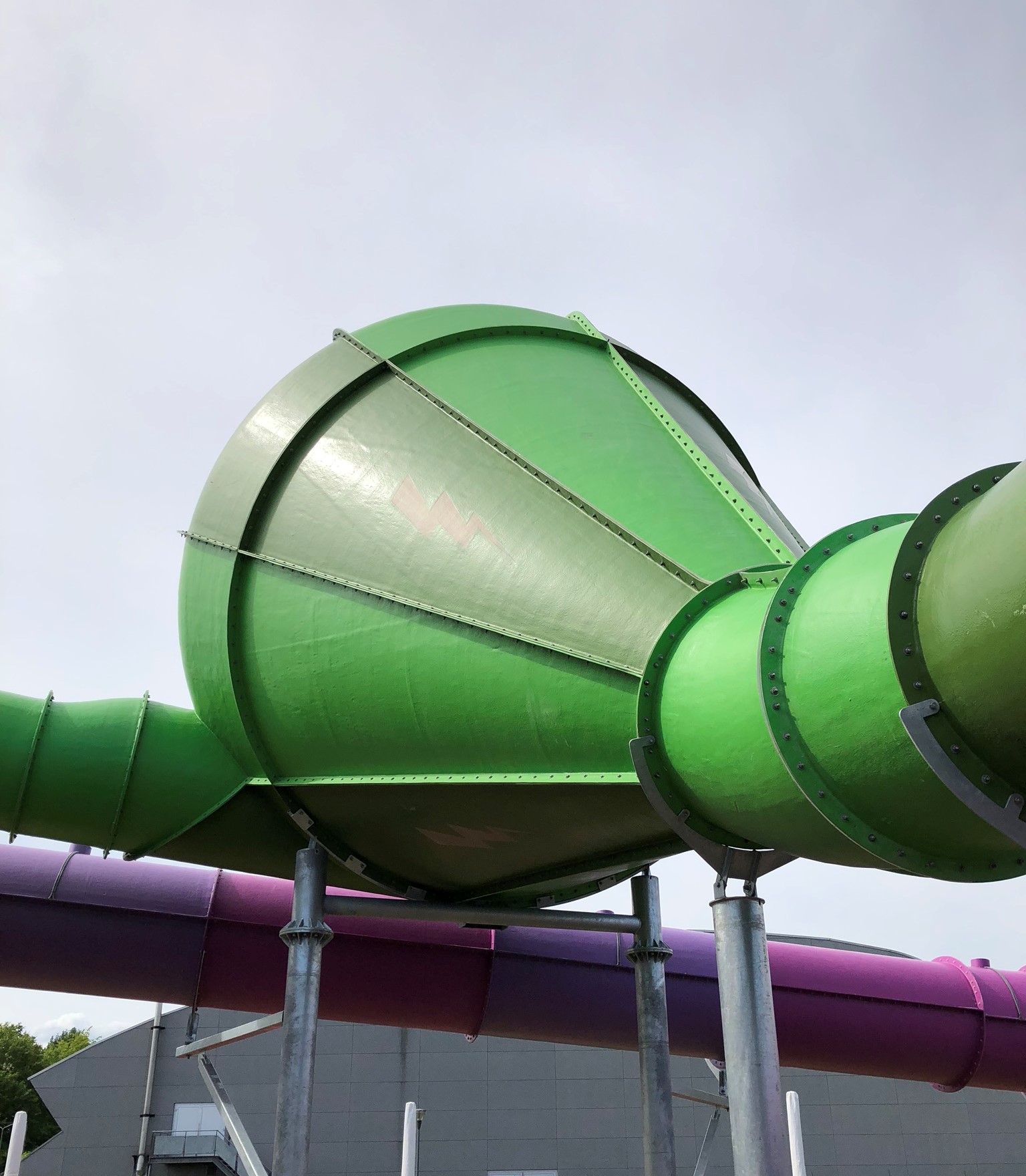 Voyager inner-tube slide
The second of the waterslides constructed is a Voyager. This is a fun and spectacular waterslide. As this slide is ridden on inner tubes, it offers visitors a totally different experience to the Challenger. The waterslide has a diameter of 1400mm and is 88.5 metres long. Both waterslides are connected to the same start tower.
The waterslide is equipped with an interactive system comprising both LED-RGB spots and a start-stop system. The choice of multimedia effects available make for an even more unique slide ride. This enables one to select one of a range of themes before embarking on the ride. All the light and sound effects are then adapted to the theme in question. The visitor is guaranteed to experience a breathtaking ride.
Our designer, Chieneke, was present at the inspection of the waterslides and therefore had the opportunity to test them herself. See the video below.
"I always enjoy trying out the waterslides we ourselves manufacture. And particularly in the case of this project. It gives me a kick to consider the possible conditions with a view to optimising the slide experience, and then check whether we got it right in practice."

– Chieneke van Straten, Designer at Watergames & More –
Activities
The new waterslides were constructed to replace the previous one. Before erecting them, the existing start tower had to be structurally renovated and its height raised. The previous waterslide was completely dismantled, then the new ones were attached to the renovated start tower.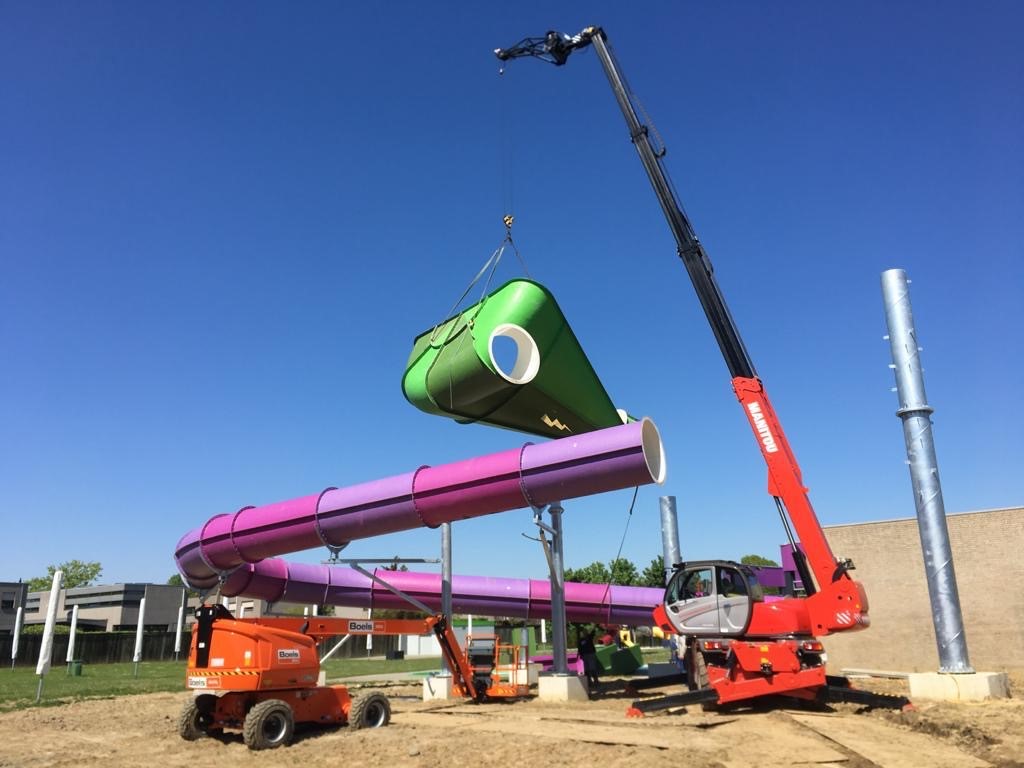 Want to learn more about this project?
If so, then contact: