We conceive total water play solutions comprising spray parks, waterslides & more, or a combination of these (themed) water attractions. Attention and service are of paramount importance to us in this regard, both in terms of the products and the process. We use high-quality, sustainable products. After all, the quality ultimately determines the appearance, the pleasure of use and the ease of maintenance of the water play equipment. If required, we can relieve you of any worries throughout each stage of the process, from design & theming to realisation & maintenance. While we can offer you turnkey delivery of our water attractions, you also have the option of executing parts of the process yourself.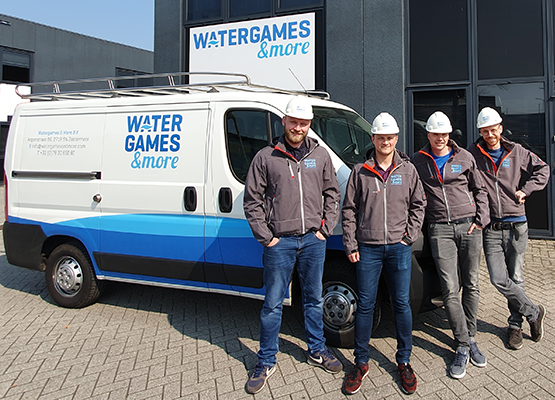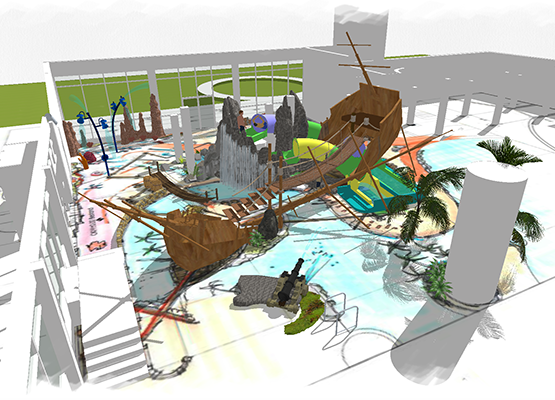 A customised water attraction
Regardless of whether it involves standard elements from our product range or a specific design idea, all designs start with an inventory of your particular wishes, possibly in consultation with an architect and/or consultancy firm. We are pleased to advise our customers on matters including the capacity, target group, appearance and theming of a water attraction. After all, no two sites are ever the same, and realising a vision entails a great deal more than producing a floor plan featuring the elements. We find it important to integrate the new playground equipment in its surroundings, so that it blends seamlessly with the site and any other equipment around it. In addition to assisting you in making a choice of the vast range of items, our experts create a unique design that meets all your requirements.
In-house Design
The designers at our own engineering department interpret the client's wishes into a digital design. In doing so, they pay close attention to achieving the right balance of excitement & safety and appearance & functional features. We then proceed to establish a design that reflects the wishes expressed, while also vouching for comfortable and safe use. We use various online 3D drawing programs to ensure that your ideas immediately come to life and the process proceeds both swiftly and smoothly.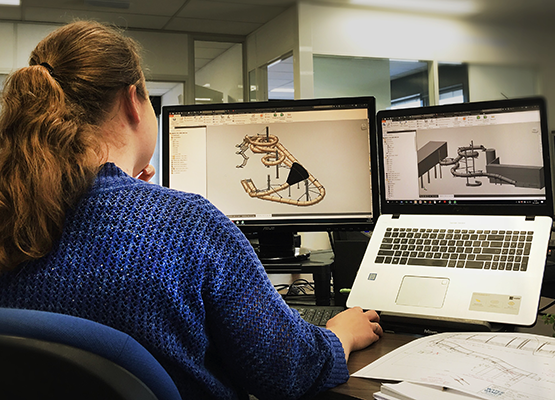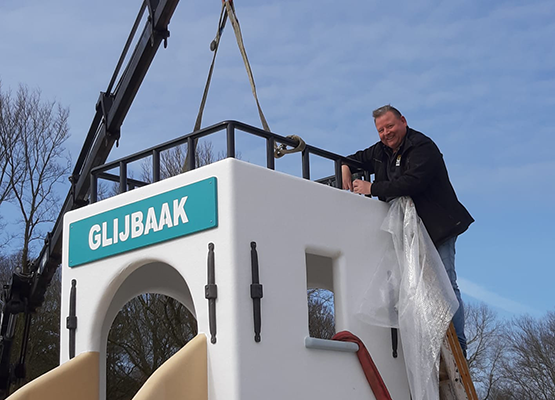 Collaboration with prominent experts
We carry out certain parts of the process in cooperation with experts. As the safety standards for slides, for instance, are highly stringent, we engage the services of an independent consultant to both provide advice and check our work, thus enabling us to construct a safe attraction. We also outsource the manufacture of our spay park equipment and slide components to our preferred partners. We coordinate the activities of contractors and installers, supervise the performance of work, and execute your project as efficiently as possible.
Reuse of existing foundations
Prior to commencing construction of a new water attraction, we assess the quality of the existing foundations. Provided they prove stable and in good order, we can use the existing foundations to erect the new waterslide, spray park or fountain. This saves you not only money, but also precious time. We apply theming to ensure that the new product blends in fully with its surroundings or other equipment present. Your park, pool or square can therefore be transformed in no time at all, enabling you to surprise your guests with a new water attraction.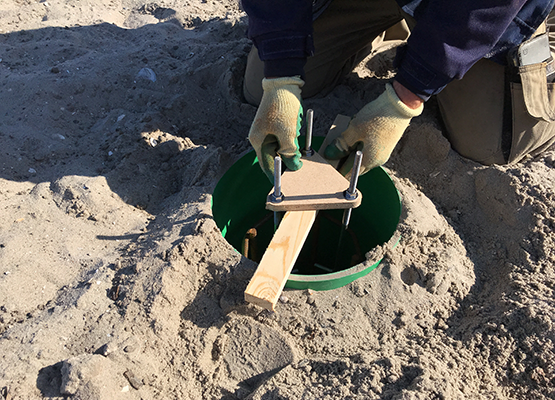 Watergames & More's products
Aquatic fun is particularly enjoyable when young and old alike can make carefree use of reliable products. Watergames & More offers a wide range of European certified products, which are manufactured using high quality materials. You are therefore assured of a safe playing environment, which is bound to offer your visitors the ultimate in pleasure. Whatever your target group, Watergames & More offers you a broad range of products to really put your leisure park, swimming pool or public space on the map.

Downloads
Various documents, catalogues and brochures follow below, which contain information about our supply programme and products. The downloads are sorted according to product category. Are you looking for specific information that is not contained in the downloads? If so, please do not hesitate to get in touch with us via the contact page.