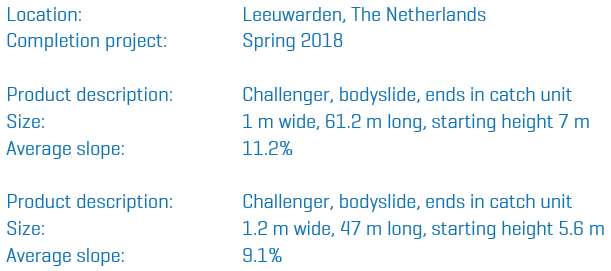 Watergames & More erected two Challengers at De Blauwe Golf swimming pool in Leeuwarden, one of which is equipped with a Dazzler (cone) and the other with exciting multimedia effects.
Activities
The pool's management placed an order for two waterslides, one of which was to replace its existing slide. Watergames & More bore responsibility for the design, engineering, supply of the slides and all construction and installation work. We also took charge of complete project management, with a view to both ensuring that the project ran smoothly and relieving the client of any burden from start to finish.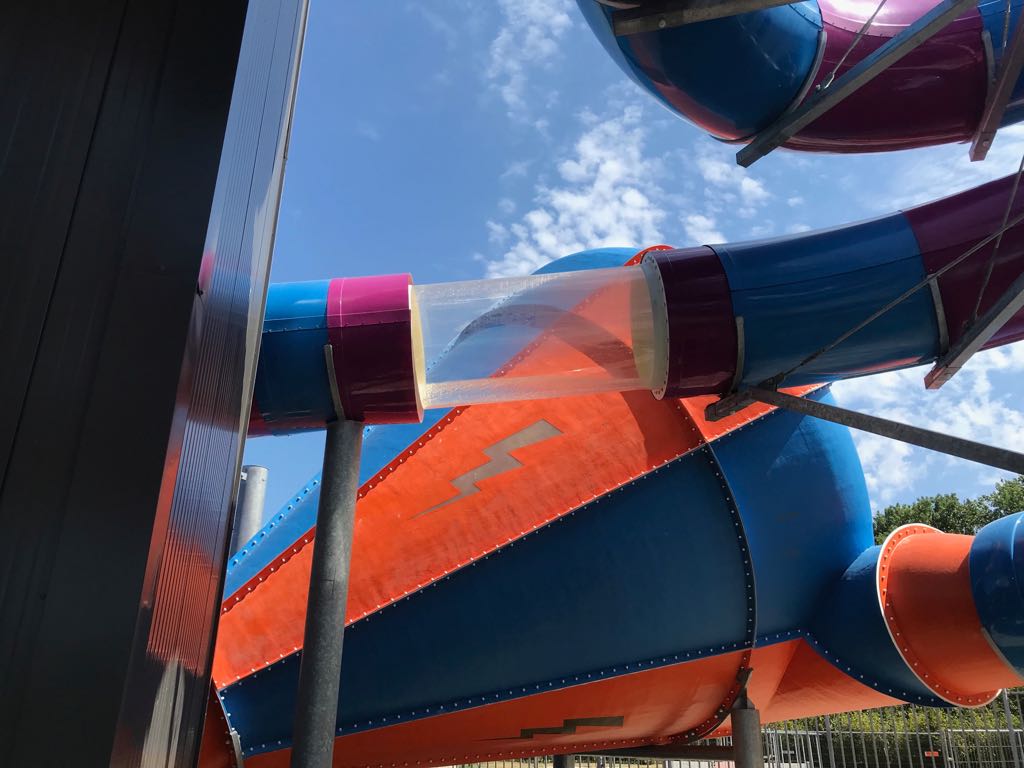 Special effects
The swimming pool chose to have the waterslides personalised with various options and effects. For instance, a sensor-controlled start and stop signal is fitted, which lets visitors know when it is safe to start the ride. A photo shoot system, time registration system and a touch game were also added. The last of these features adds a competitive element to the slide experience. Touch points are spread throughout the course of the slide. The aim is for bathers to make contact with as many touch points as possible during their ride. The catch unit is equipped with a scoreboard that displays the ride time and the points accumulated in the touch game. This encourages guests to repeatedly ride the slide, with a view to continually improving their score.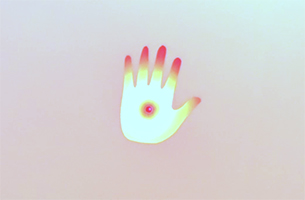 Insulation
Both Challengers are equipped with thermal and acoustic insulation. A second shell was installed around each of the waterslides, so that insulation material could be fitted between the original and outer shells. This enabled us to apply a substantially thick layer of insulation material and therefore achieve a very high insulation value. The flanged joints between the tube sections of the waterslide are also fitted with insulation material. All the hardware for the multimedia effects nevertheless remains readily accessible for regular maintenance.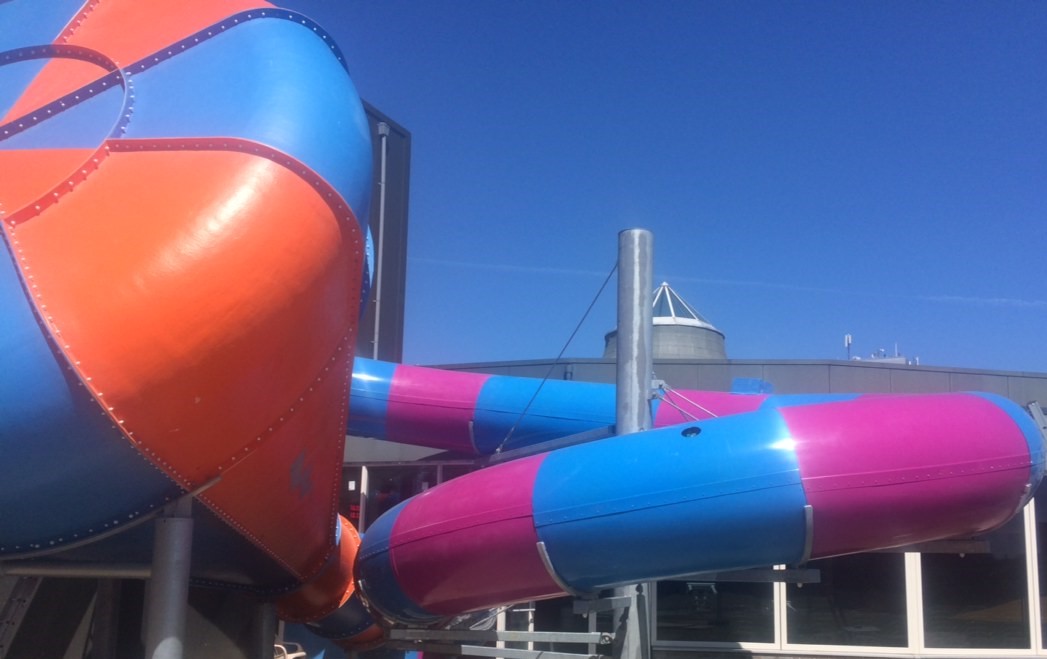 Daylight effects
The orange sections of the Dazzler (the cone) feature lightning bolts. These are semi-transparent glass fibre reinforced polyester parts, which admit daylight. This lends the slide a truly special effect, while also enhancing visitors' ride experience.
A section of one of the Challengers is entirely transparent. This part of the waterslide is made of acrylic, which remains uninsulated of course. It enables the visitor to view the surroundings from the slide, and vice versa.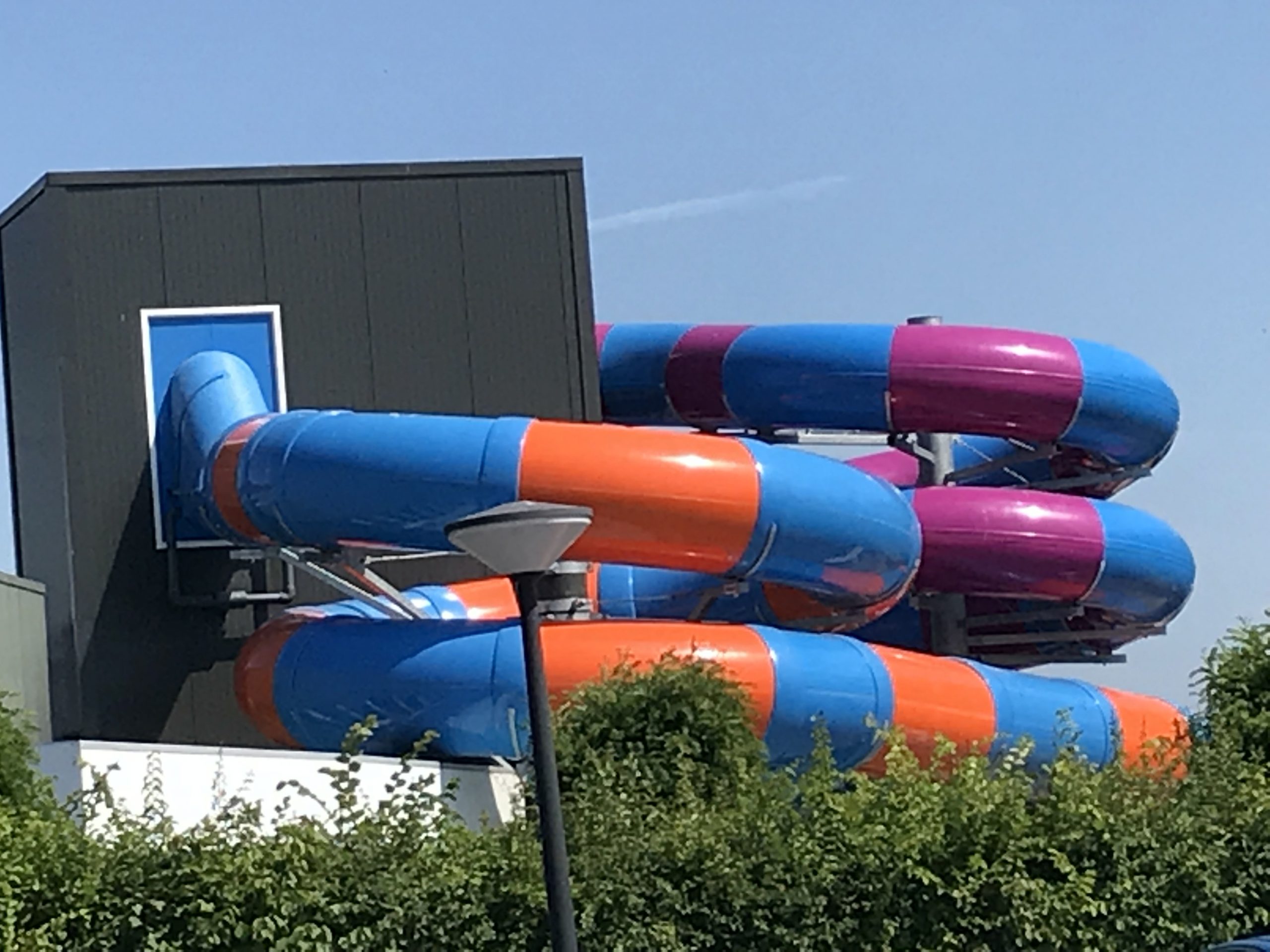 Want to know more about this project?
If so, then contact: