In the summer of 2018, De Waterwyck Swimming Pool took delivery of a new Watergames & More Challenger. We were commissioned by Sportservice Steenwijkerland to replace the existing waterslide. Thanks to the inclusion of the latest multimedia and insulation, the new waterslide is completely up to date.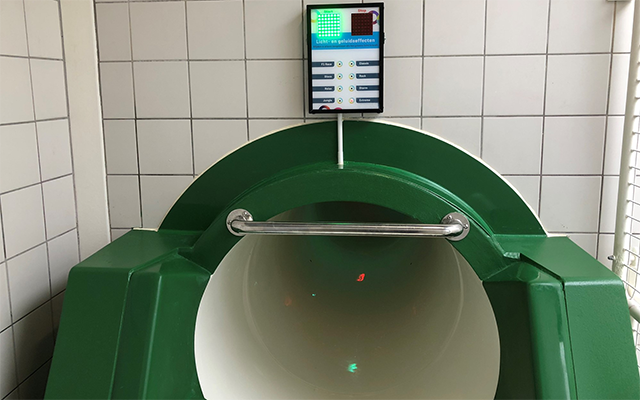 Project activities
The new waterslide was erected on the site of the existing original model. As much as possible of the original loadbearing structure was reused in the process. Watergames & More dismantled the original slide, before proceeding to assemble the new one. We also manufactured the waterslide ourselves.
High attraction value thanks to multimedia
The Challenger is equipped with a stop/go system and interactive touch points. The challenge to visitors is to hit as many points as possible during their ride. The more touch points struck, the higher the score awarded! In addition, the time of each ride is recorded, which considerably adds to the slide's entertainment value. Visitors are continually challenged to improve their personal best, as well as the slide's all-time record and the fastest time of the day. In addition, they can compete against one other to achieve the highest score.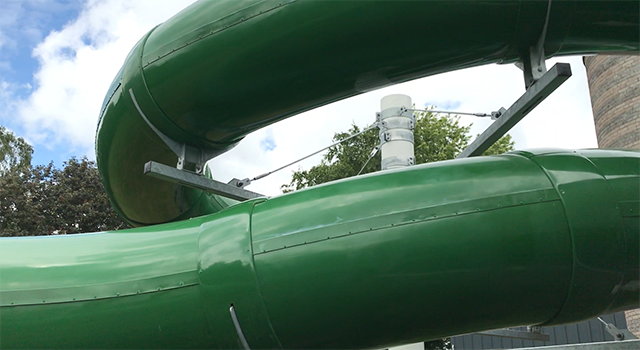 Sportservice Steenwijkerland was looking for a replacement waterslide, with a favourable price-quality ratio, that would yield improved exposure. The replacement has certainly proven successful: 'Youths are beginning to return in larger numbers,' the authority's director enthused.
The video below provides an impression of both the waterslide's characteristics and the experience that it offers:
Insulation
A large proportion of the water slide is suspended outside the perimeter of the building. It is therefore fully insulated to prevent the loss precious heat. Not only has this considerably reduced energy consumption, it has also rendered use of the waterslide appreciably warmer. Furthermore, it prevents draughts and condensation on the interior of the waterslide, which also enhances the comfort of the slide ride.
Want to learn more about this project?
If so, then contact:
Founder & Co-owner, Commercial Director & Account Manager Germany
Paul executes projects including spray parks in the Netherlands and abroad for all sorts of clients, ranging from recreational sites to municipalities. Sales & consultancy are what he enjoys doing most! Paul is good at getting people enthusiastic about the product. Given the vast diversity of clients he deals with, every design basically calls for tailor-made advice. Together with the client, he examines the best means of incorporating the possibilities and requirements in a feasible and unique design.