The figures suggest that, on average, each of us consumes six litres of ice cream annually… But where is ice cream actually made? One of the sites responsible is Krumbach in Austria, where ice cream manufacturer Eis Greissler produces the most delicious varieties of ice cream in its factory. In the spring of 2021, Watergames & More proceeded to construct two themed water playgrounds in the 'Erlebnisbereich' or Adventure Area of the ice cream factory's grounds. Eis Greissler's intention in commissioning the water playgrounds is to offer its visitors both the opportunity to cool off during hot summers and even greater attraction value.
Eis Greissler's adventure area basically comprises a range of outdoor facilities that enable children to enjoy themselves for hours on end. Besides sliding, swinging, climbing, the children now also have ample opportunity to revel in water play there. Watergames & More was engaged to construct two themed water playgrounds for this Austrian ice cream manufacturer. As Eis Greissler places such great emphasis on the visitor's experience, this also had to be reflected in the water playgrounds. The Spray Park was therefore developed with an ice cream theme. We carefully studied Eis Greissler's website to gain a sound understanding of both the way it presents and serves its ice cream products and the look and feel of its sales outlets. Only then did we then set to work to conceive a design.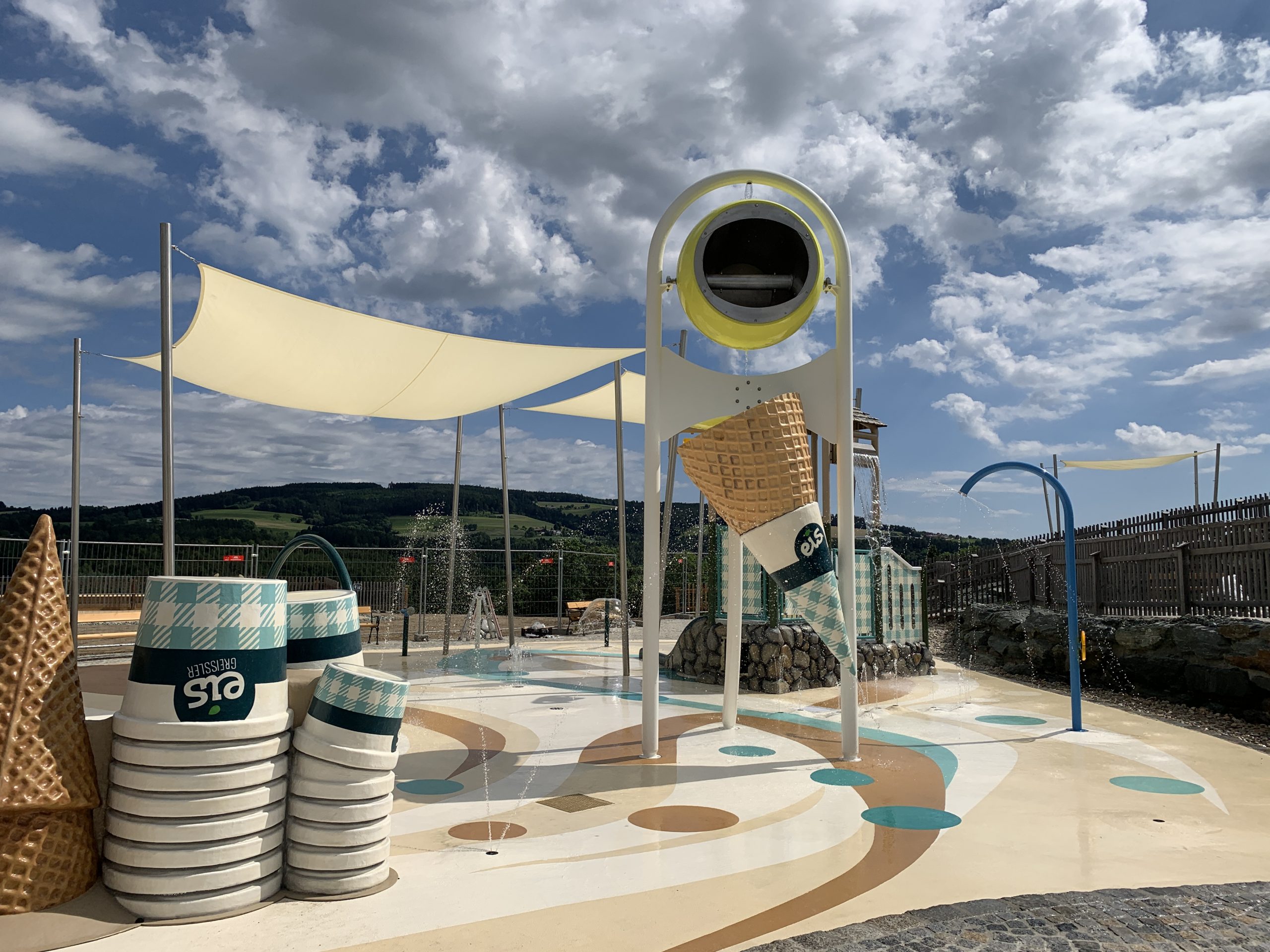 Not one, but two water playgrounds
The first of the two Spray Parks measures 210m² and comprises several themed elements. The Mega Soaker (large tipping bucket) for instance, was designed in the form of a huge ice cream cone, while the water table comprises ice cream tub features and scoops of the product are served in a sorbet glass. Eis Greissler makes its ice cream using organic milk sourced from its own dairy herd. To tie in with this, the Spray Park also features a (water-spraying) cow. With a view to boosting the experience, the ice cream theme even extends to the flooring. Its pattern reflects the twist created when ice cream is churned. One glance at this playground is almost sufficient to conjure up the very smell of ice cream. The Spray Park's water play structure has a wood-look finish, so that it blends in with the factory's surroundings, the existing play facilities and the restaurant alike.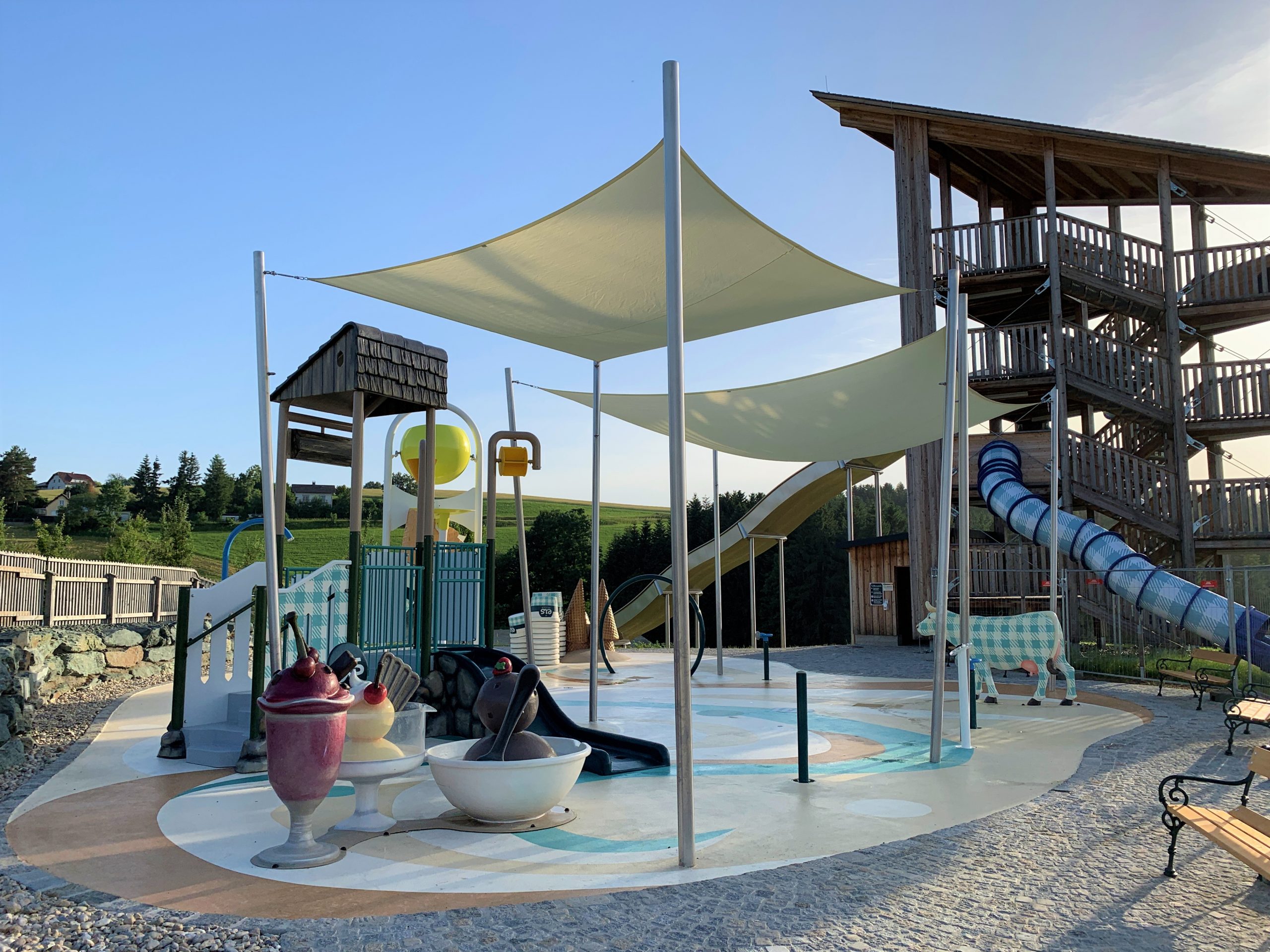 The second of the Spray Parks occupies an area of approximately 600m². It has a theme based on natural elements, including a stream that runs through rock formations. The theme is complemented by the inclusion of Waterleaves, grasses, fish and two waterfalls supplied by our partner Waterplay Solutions Corp.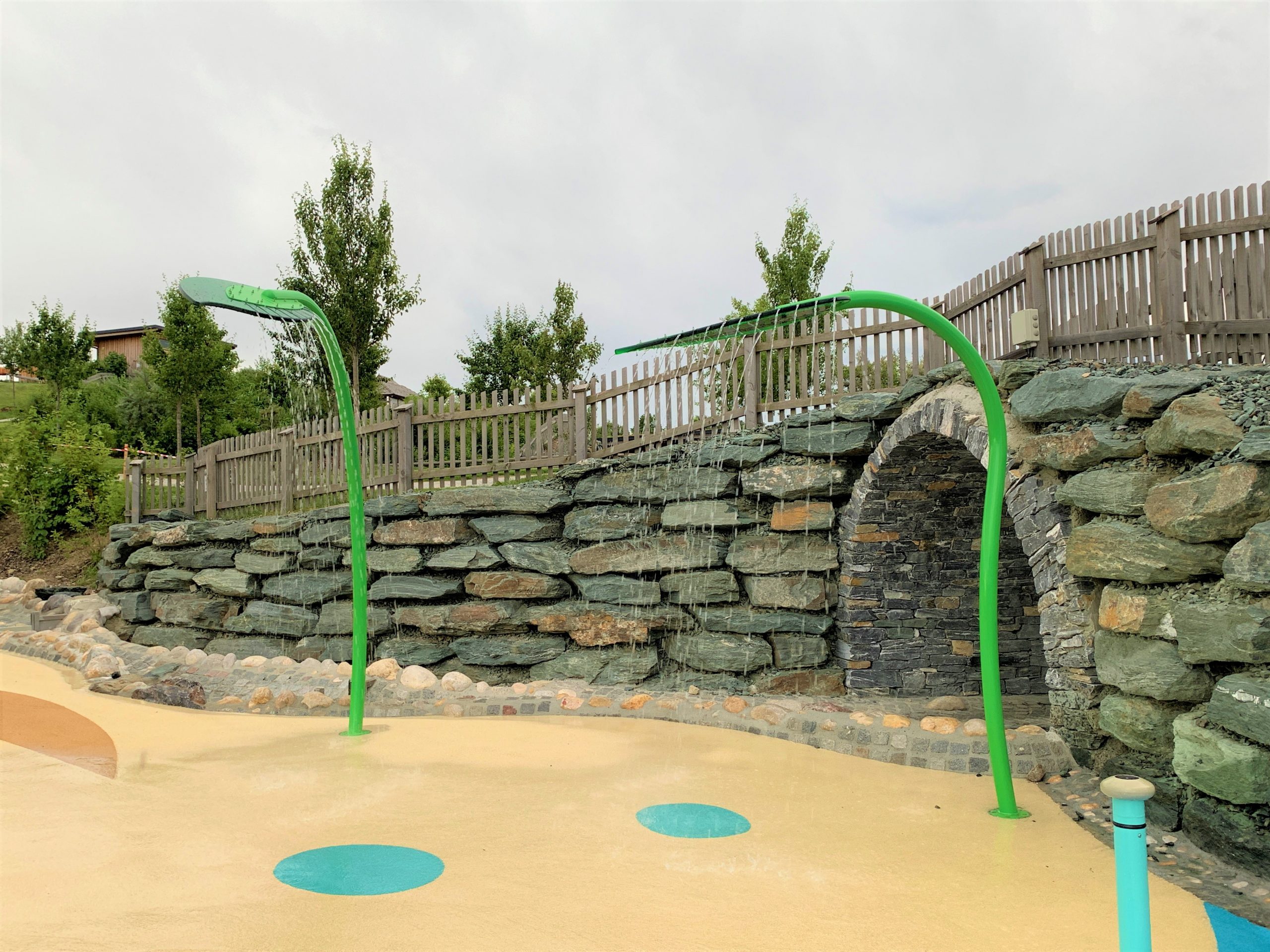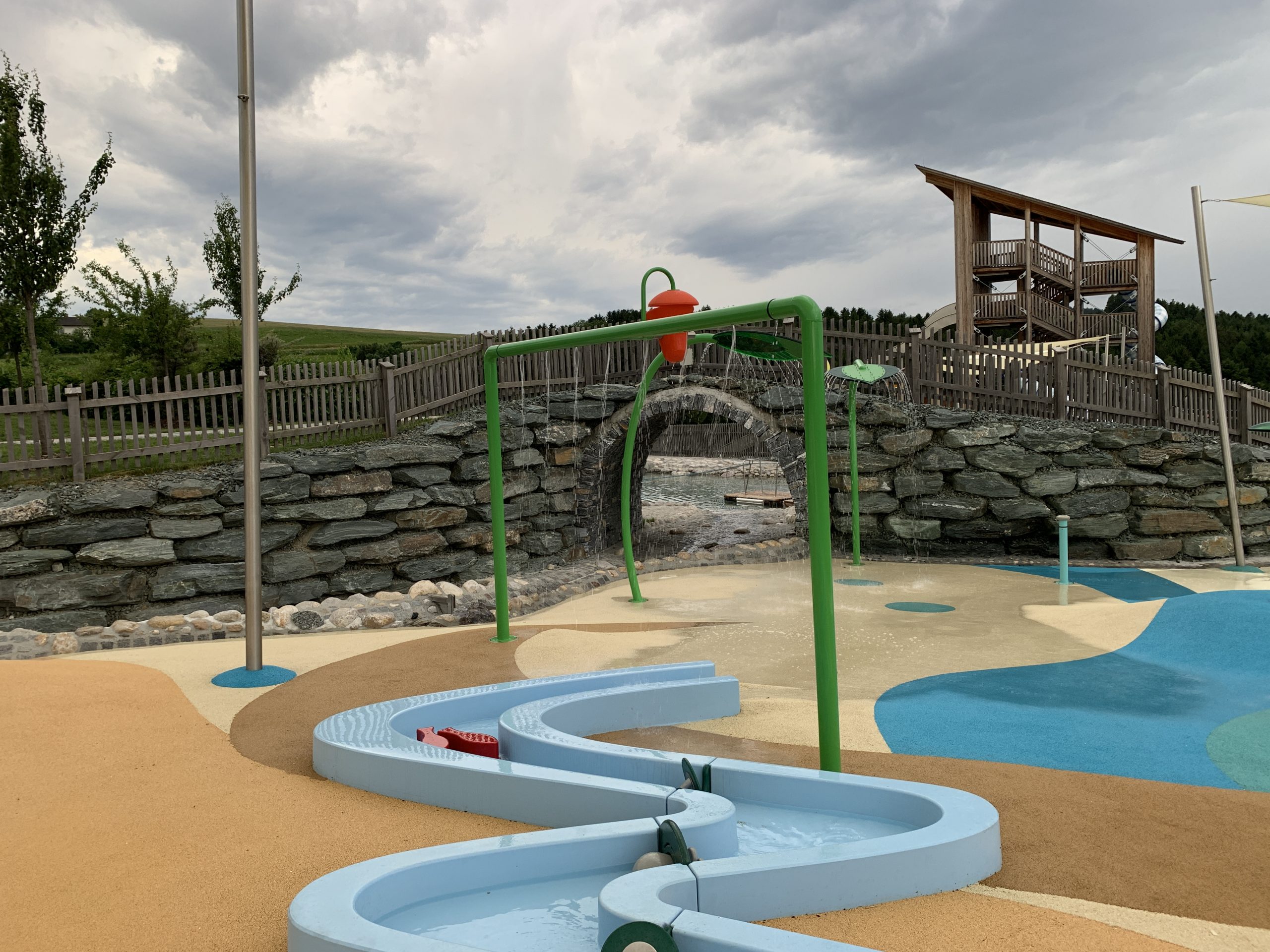 Extended scope of work
Eis Greissler further extended the scope of work on the two projects. Watergames & More was asked to fit sail shades, renovate the existing stream banks and finish them in colourful EPDM, which also looks like ice cream. Furthermore, all the play approaches and sluice gates were designed, produced and assembled by Watergames & More. With a view to vouching for superior quality, we made extensive use of 316L stainless steel, due to its resistance to swimming pool water.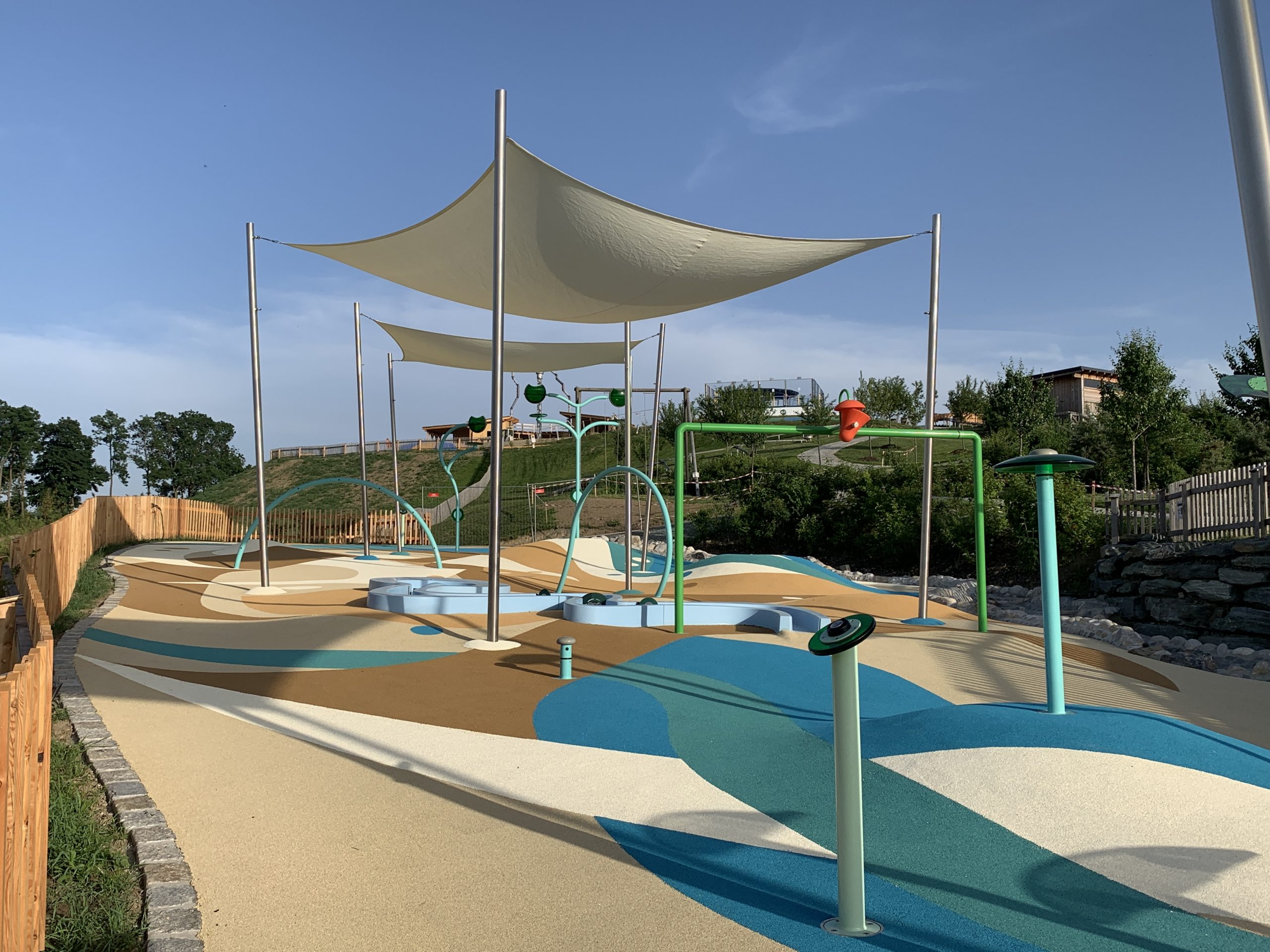 Activities
Watergames & More bore responsibility for the engineering and control technology, as well as provision of the Spray Park elements and water play structure. It also carried out the technical installation work in cooperation with a regional swimming pool installer.

Want to learn more about this project?
If so, then contact: