Hans & Grietje, the place where fairy tales really come true in both the restaurant and playground. Moving floors, enchanting ceilings and floating tables, all in keeping with the spirit of the fairy tale Hansel & Gretel. This also applies to the unique, themed Spray Park that Watergames & More completed there in the autumn of 2020. The proprietor, Hans, had the Spray Park constructed with a view to meeting his customers' need to cool down during hot summers.
Fairy tale theme
Hans & Grietje is truly distinct in that the unique site is entirely decorated in the style of the aforementioned fairy tale. And the Spray Park had to follow suit, of course. A fairy tale tree therefore graces the centre of the Spray Park. We also installed various ground sprays and items of equipment supplied by our partner, Waterplay Solutions Corp. One of these is the 'Parasol', from which a sort of rain curtain sprays down. As the equipment is available in any colour, it could therefore be perfectly matched with the fairy tale theme.  The colourful floor is finished in cold plastic resin, which lends it a uniquely sweet appearance. All the Spray Park's themed elements jointly ensure that the fairy tale truly springs to life. While their parents relax on the terrace, children can cool down in the Spray Park.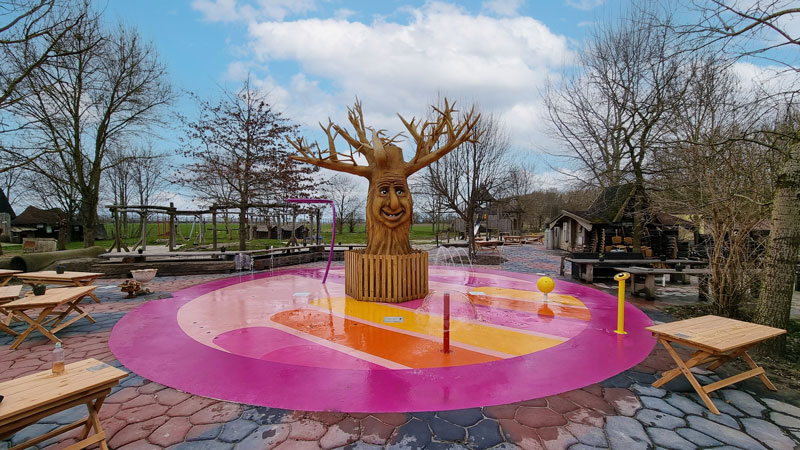 Phased implementation
Hans & Grietje initially opted for phased completion of the Spray Park. This implies that the Spray Park is originally constructed comprising only ground sprayers. It enables owners to buy and install above-ground equipment at a later stage. As Hans & Grietje was so pleased with the result, however, it ultimately opted to purchase said equipment immediately following completion of the initial contract, towards the close of 2020. The above-ground equipment was therefore installed this spring, and the Spray Park readied for the summer season, making it suitable for immediate use.
Activities
Watergames & More relieved the client of any worries by carrying out turnkey delivery of the Spray Park. We took a great deal of work off the client's hands in this regard, by assuming responsibility for the management of all work up to and including completion of the project.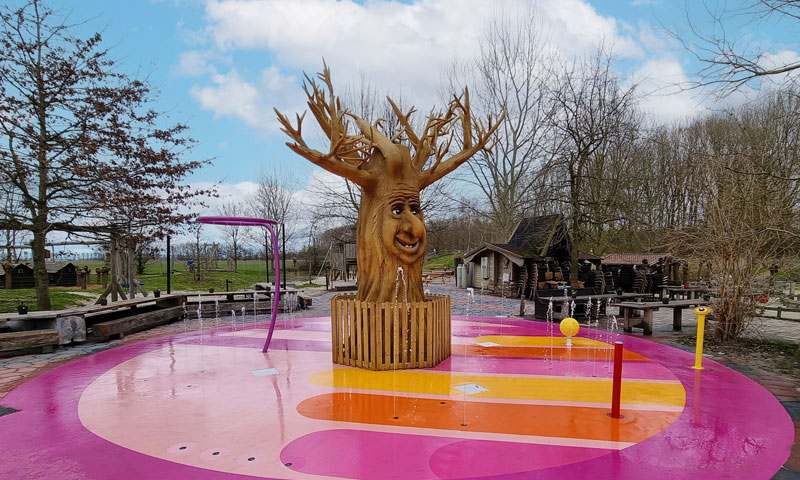 Want to admire the Spray Park?
Are you curious to see what the Spray Park looks like in real life? Simply visit Hans & Grietje in Zeewolde and experience the fairy tale yourself. Like to learn more about the possibilities of us constructing a themed water playground at your site, too? Please do not hesitate to contact us!

Want to learn more about this project?
If so, then contact: