Having previously installed a WaterClimbing wall and supplied inflatables, Watergames & More recently also completed two spectacular waterslides for Twentebad Hengelo. The construction of the waterslides was part of a major renovation of the swimming pool's facilities.
Slide poll
Watergames & More's tender was awarded the project in what amounted to no less than a waterslide poll. Numerous developers vied to submit the best proposal, based on a wish list and designated budget. The jury comprised both the swimming pool's own panel of technical experts and a child jury made up of 94 children in the age bracket 5 to 12 years old.
The technical panel voted unanimously for our design, as we fully utilised the available space to come up with the most appealing slides. Moreover, our design stole the hearts of the majority of the children. Given the results, Watergames & More emerged the winner by a long chalk, and we are proud to have been selected to build this project.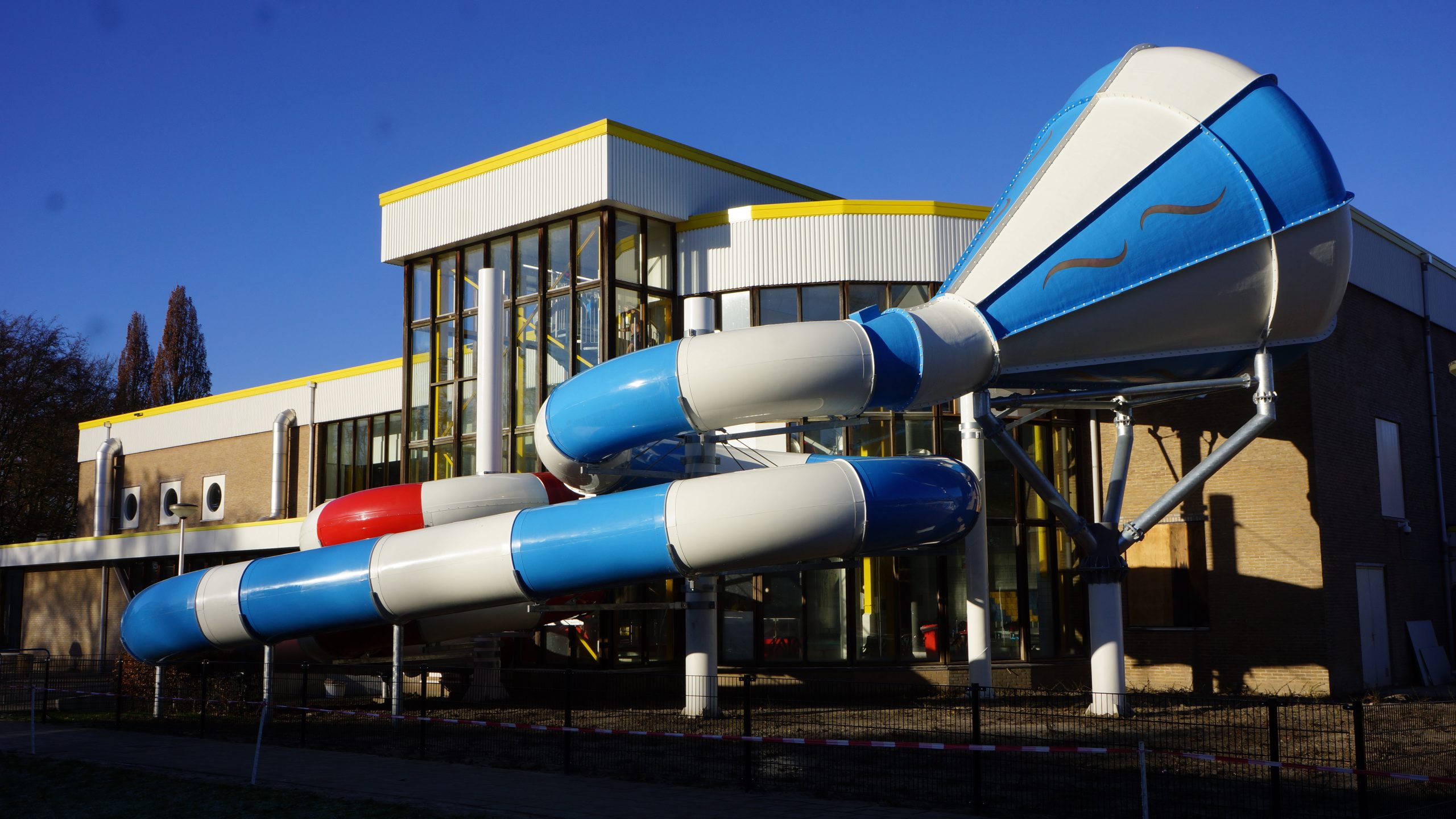 Let the Challenge start!
The first of the waterslides is a 1000mm red Challenger with a start height of 5.5 metres and a 51-metre-long course. It is also fitted with an interactive touch game. Visitors strive to accumulate as many points as possible by touching the lit-up sensors during the ride. The touch game is a competitive play element that encourages bathers to challenge one another. The multimedia system's RGB-W make for a highly exceptional slide ride.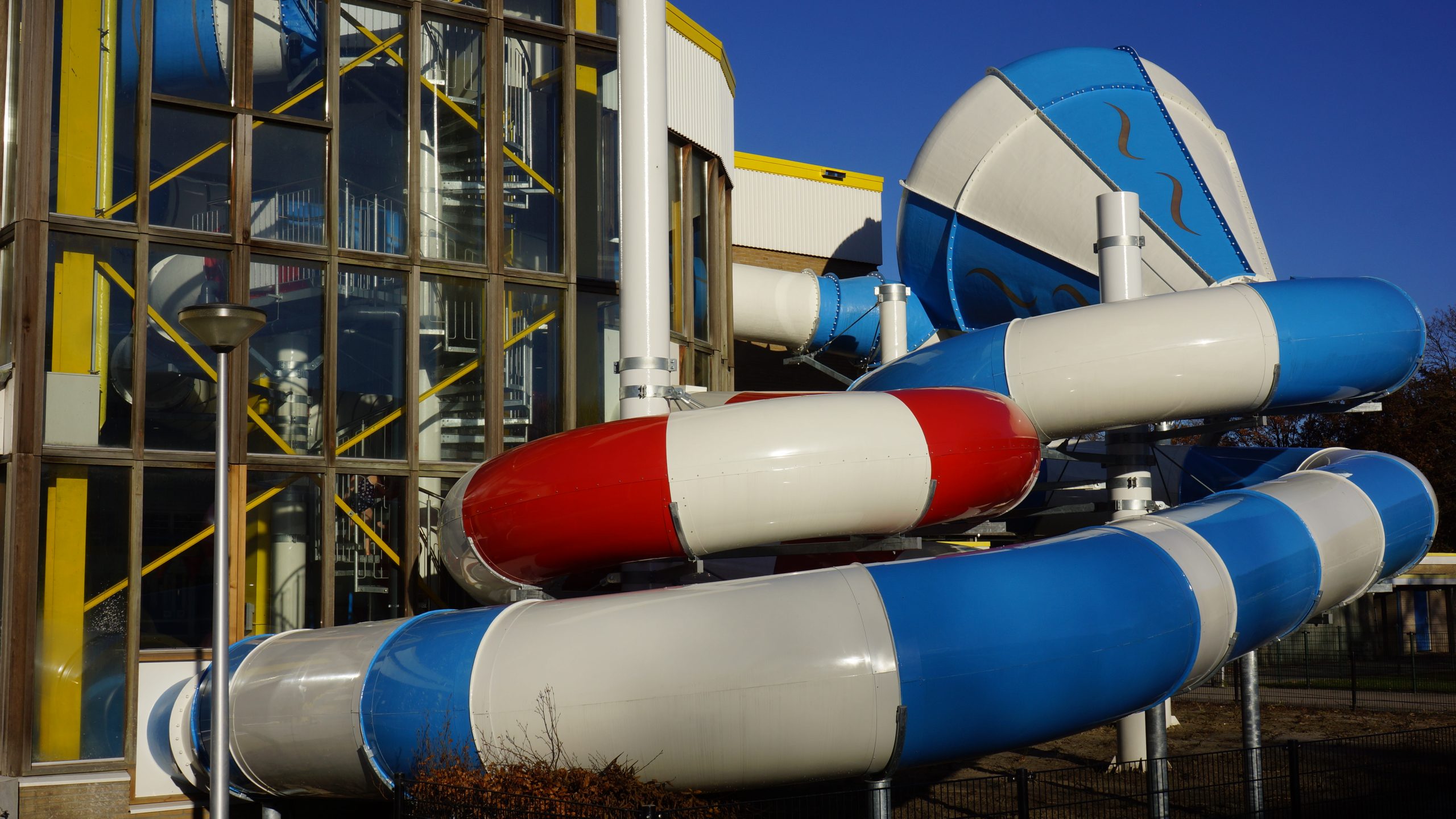 Dizzying & exciting waterslide
The second waterslide is a blue one that is even higher and longer than the first, at a length of 67 metres. Visitors access its dizzying start height of 7.95 metres by means of a spiral staircase. There, a breathtaking slide experience awaits them. The slide's Dazzler (cone) makes it highly spectacular. Having travelled the Challenger's first few metres at a rapid rate, visitors are surprised to emerge into the wide open space of the Dazzler. Its cone-shaped walls send them skittering in all directions, before continuing their ride on the Challenger. A camera fitted at the end of the slide is poised to capture a lasting memory of the spectacular ride. It has an extremely high photo capacity per day. This renders it ideal for use at a busy site such as Twentebad Hengelo. This waterslide is also fitted with RGB-W LEDs.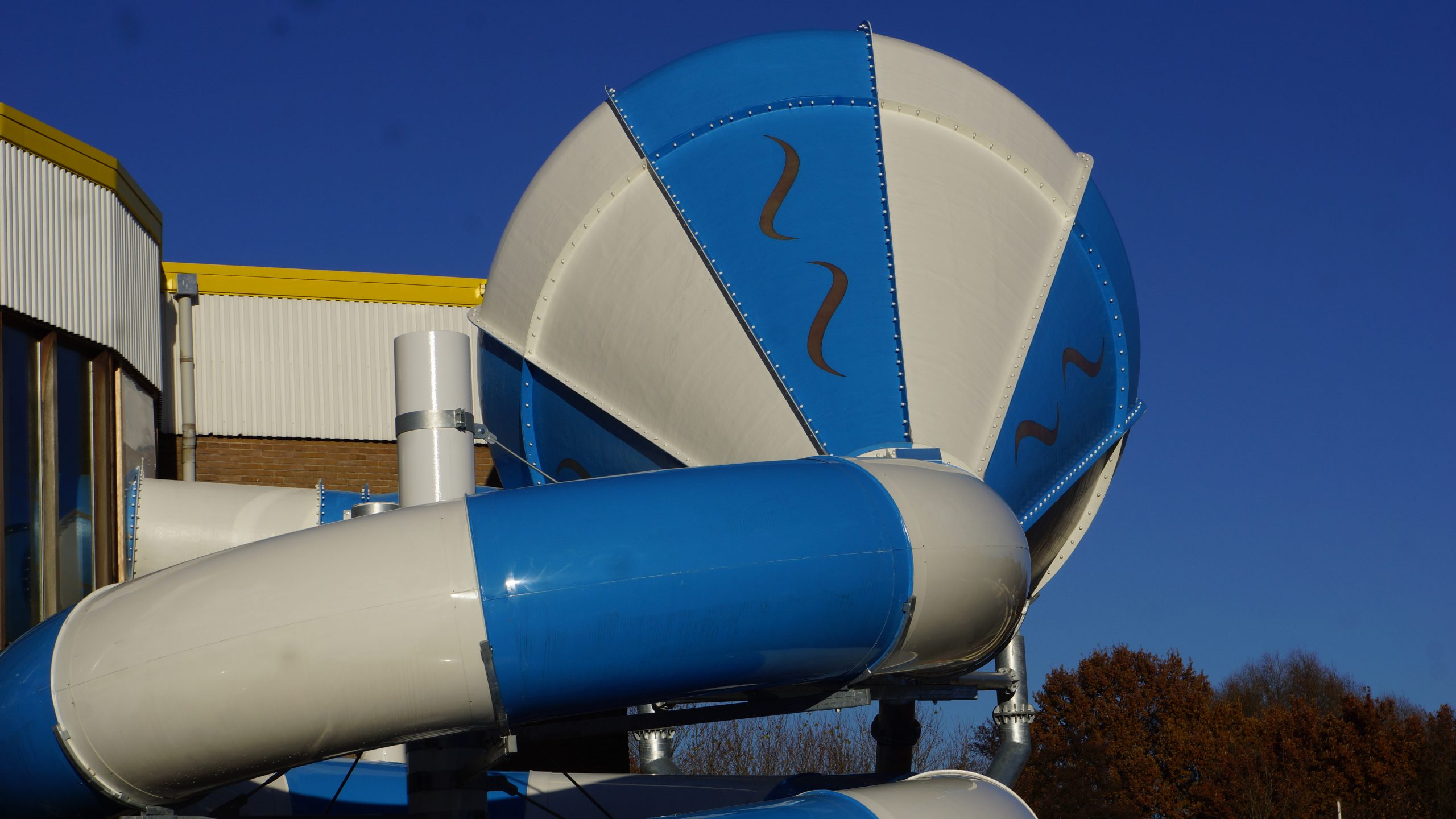 Unique custom solutions
We carried out all the structural and installation work related to the waterslides. In constructing the new waterslides we nevertheless made optimum use of the available space and existing facilities, such as the former waterslide's pumping systems. Furthermore, we insulated the slide to prevent any heat being lost. In addition, a smart spiral staircase with pressure sensors has been installed. These sensors ensure that the pumping system is automatically switched off whenever the waterslide is not in use. These smart technologies reduce the operating costs and make the waterslide an environmentally conscious choice.

Want to learn more about this project?
If so, then contact: