De Boomgaard Holiday Park is a delightful family campsite on the Zeeland coast in Westkapelle. In addition to renting spacious pitches for tents, caravans and camper vans, the holiday park also comprises mobile homes and various types of chalets. This year, its rather dated existing facilities are to be renovated and various new attractions added, including a unique water playground. From the summer of 2016, operations will switch to full swing to create a unique water attraction in the city of Westkapelle, Zeeland. The attraction will comprise a combination of three water slides and a spray park. The theming is designed to lend the park a unique image. The technical work is to commence in early 2017. And the water park will be completed in time for the start of the new season.
Three waterslides for uninhibited fun
The three slides are each aimed at different age groups. The slide ends in a funnel, the Jiggler. The Waverider is a wide and low slide, which opens out into the spray park. It is suitable for the park's younger visitors. The second slide, the Challenger, is a fast tube slide that is suitable for children from eight to twelve years old. And the third is spectacular slide for older children. This slide actually opens into a funnel known as the Jiggler. The spray park, which seamlessly connects all the elements, is the perfect place to allow small kids to play safely. It comprises numerous fountains, soakers and other play equipment. The water attraction as a whole therefore has something to offer every age group.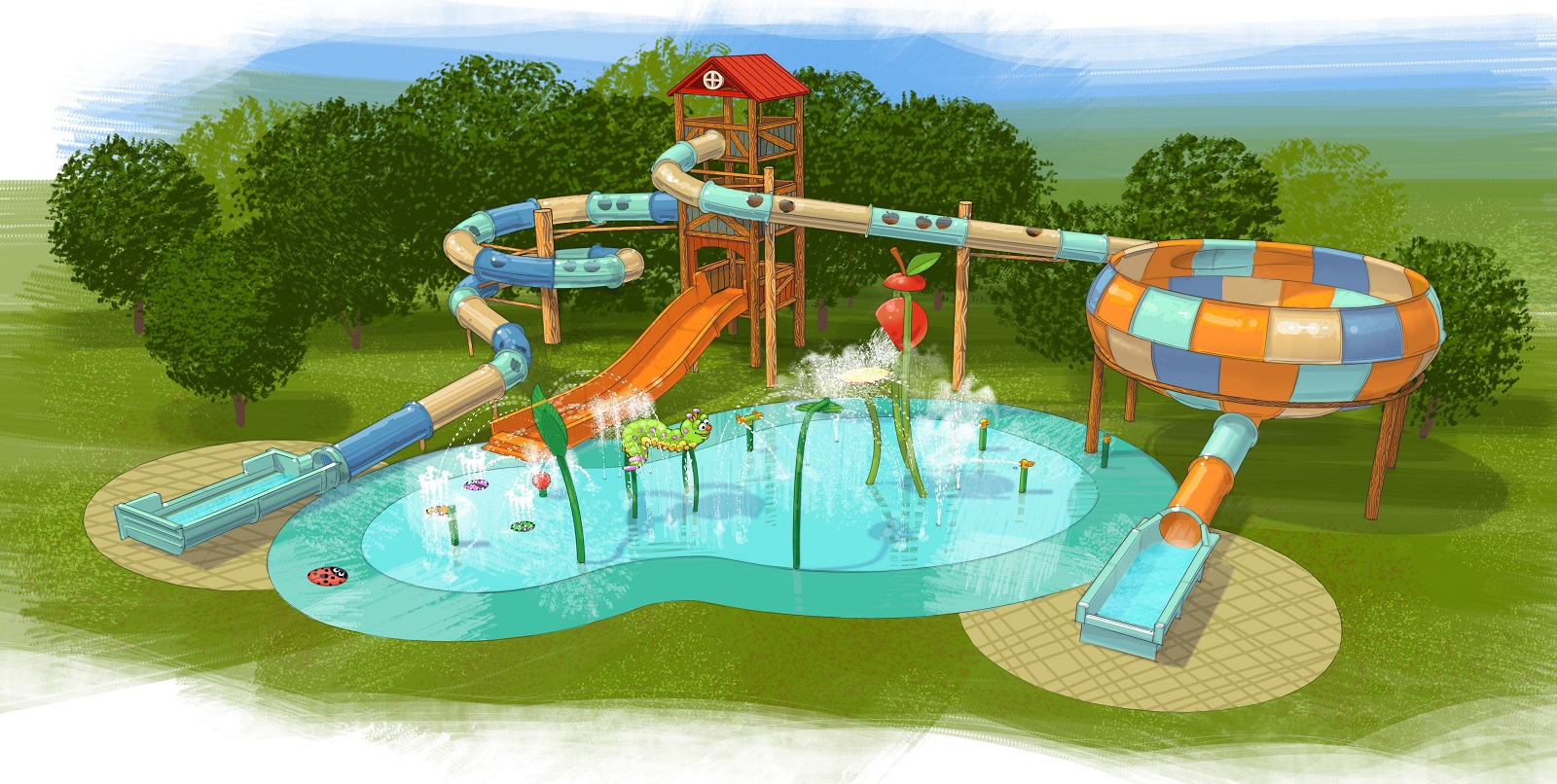 Unique theming
The theming applied has a warm and playful character. It features extensive use of pale colours and organic shapes. A unique wood texture pattern has been applied to the structural steel tubes. This lends the attraction a natural look. The landscape of Zeeland is also reflected in the tower, which is the starting point for all the slides. The tower was inspired by the Zeeland's characteristic barns. We are to cooperate on construction of the central structure with K3H architects, water systems installer Van Dorp Zwembaden, and principal contractor Bouwbedrijf Meliskerke. We nevertheless remain the point of contact throughout the project, while coordinating and keeping the various operations on track. This should enable us to relieve the client of any burden, and carry out turnkey delivery of a total solution.
'Earlier this summer, we cooperated with architects to produce an artist's impression of the completed project. It will be nice to witness how this design ultimately comes to life.'
Odmar van den Berg, CEO at Watergames & More