Since the summer of 2016, people have been working hard on a unique Spray Park and no less than three spectacular waterslides. Last week it was finally time for the opening of the waterpark! The new center facilities at holiday park De Boomgaard in Westkapelle (Zeeland) was also opened. The beautiful building with reception area, restaurant, indoor swimming pool and indoor playground designed by K3H Architecten were done in very good taste.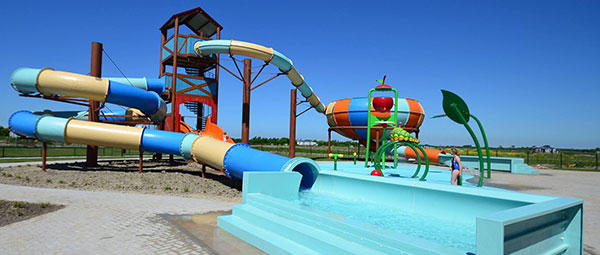 The biggest eye catcher is the water playground behind the building on the grounds. Everything the water playground's design promised, can be admired in all its splendor. It has become a splendid project that has provided holiday park De Boomgaard with very distinctive center facilities. Watergames & More is proud of this wonderful playground and wishes to thank all companies we have worked with on this project: K3H Architecten, Bouwbedrijf Meliskerke, Van Dorp Zwembaden and Jora Vision.
Three fantastic waterslides
The three waterslides are each for a specific age category. The Waverider is a true family slide. The slide is low and wide allowing multiple people to slide next to each other and leads into the Spray Park. The second slide, the Challenger, is a rapid tube slide for children between the ages of eight and twelve. The third slide is spectacular for older children. The slide leads into a funnel, the Jiggler.
The Spray Park unites all elements and is a safe play environment for young children. The Spray Park consists of various fountains, ground sprayers and other playground equipment. Thus, providing the waterpark with something for all ages.
Theme inspired by the surrounding area
The slides and the Spray Park are completely thematic and have a warm and whimsical atmosphere thanks to the use of soft colors and organic shapes. The steel construction tubing has been treated with unique wood textures, giving an overall natural appearance. The landscape, typical for Zeeland, is also a part of the design of the tower which is the starting point for all slides. The tower is modeled after classic Zeelandic barns.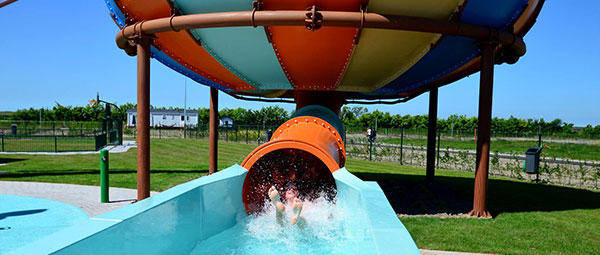 Camping De Boomgaard is a welcoming family oriented camping on the coast of Zeeland in Westkapelle. This year, the camping spared no expenses with their investment in a new reception building, indoor swimming pool, brasserie, indoor playground and a Watergames & More water playground. Guests are full of praise over the addition and Camping De Boomgaard themselves are very satisfied with the results. We wish Camping De Boomgaard and all their guests an outstanding season!