De Roggeberg RCN holiday park is a multi-faceted site which borders on the Drents-Friese Wold National Park. The holiday park offers a broad variety of facilities, including a new water play paradise completed in the summer of 2020. De Roggeberg's interactive water playground offers guests ample opportunity to cool off. The playground's theming lends it a unique image.
Theming and equipment
Our designers came up with a unique design that blends ideally with the holiday park's surroundings. De Roggeberg borders on the Drents-Friese Wold National Park. This is one of the Netherlands' most stunning nature reserves, whose landscape features woodland and shifting sand dunes, etc. The Spray Park also accurately reflects both these features. The woodland is represented by the Waterleaf elements (spraying leaves) situated around the paddling pool and the various tree trunks installed in the water playground. These hand-crafted tree trunks also feature in the benches, waterslide and water table. Furthermore, the floor is finished in a sand colour, which lends the Spray Park an aspect of the local shifting sands. The playground's rocks and rocky waterfall introduce a particularly natural look.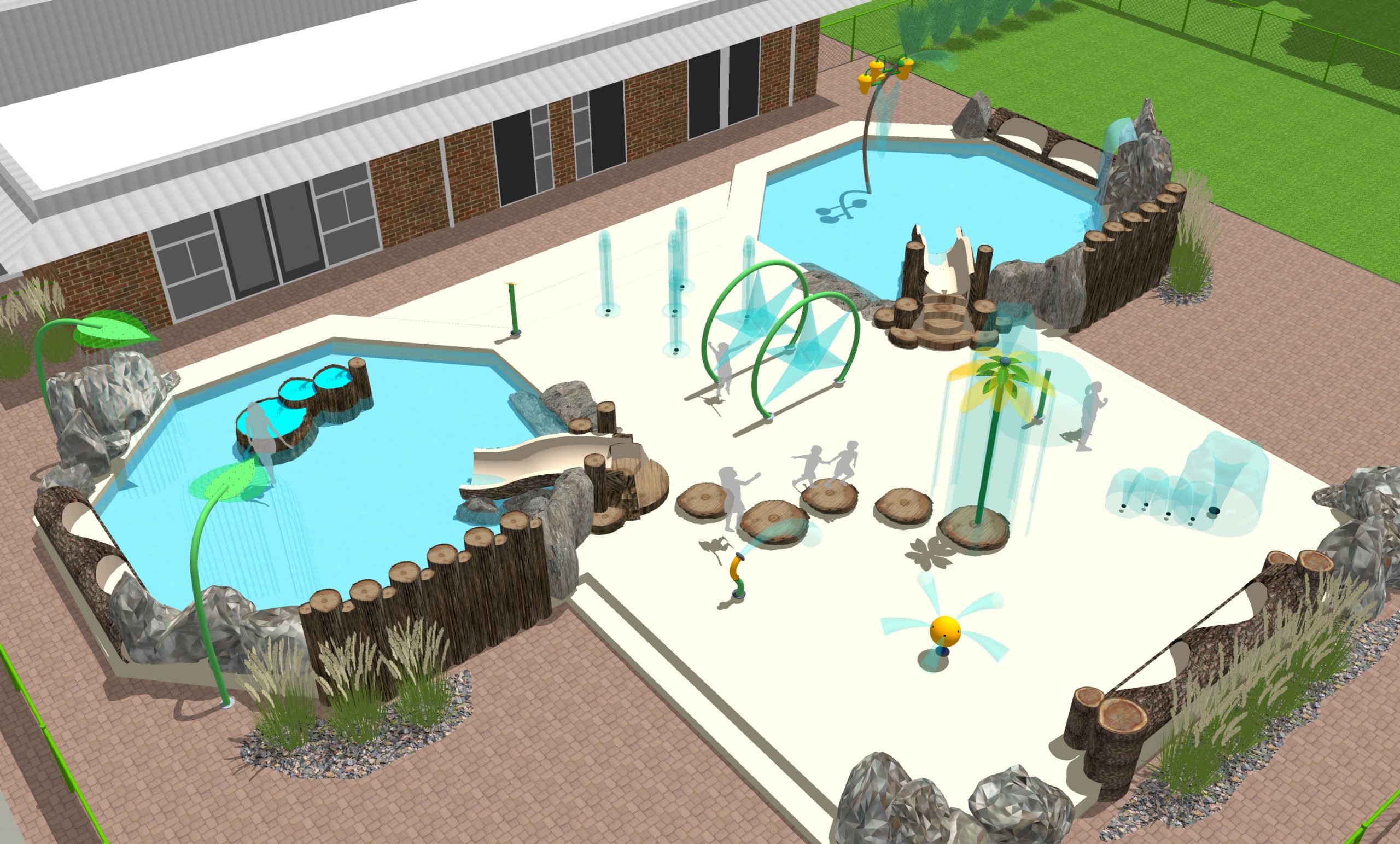 All the colours used in the Spray Park are natural tones, which match De Roggeberg RCN Holiday Park's house style. The colours of De Roggeberg's logo (yellow, green, orange and blue) also feature in the equipment. For example, the Spinny Squirt (360-degree spraying sphere) is orange, the Spiral Tunnel (tunnel with various nozzles) green and the Sneaky Soaker (tipping buckets) yellow.

Activities
Watergames & More completely relieved De Roggeberg of any burden during this project by carrying out both the construction and installation work. In the process, we completely redeveloped De Roggeberg's three existing paddling pools into a new water playground. Two of those pools were fully refurbished and given a new top coating. These paddling pools are finished in a shade of beige, which creates a highly natural effect. The remaining paddling pool has been redeveloped into a Spray Park. Apart from the design, delivery and assembly of the Spray Park, we are also responsible for all of the water playground's themed decoration. The various tree trunks and rocks included in the water playground's theme are all hand crafted.
Customisation
As no two sites are ever quite the same, a tailored solution is basically always advisable. There are almost countless options available when it comes to theming your water playground. In this regard, we would be pleased to jointly consider both the applicable image and target group(s) with you.

Want to learn more about this project?
If so, then contact: