From 16 to 19 September 2019, Paris played host to the IAAPA Expo Europe. This leading fair for the attraction industry offered over 550 companies the opportunity to present themselves, as well as ample for networking and discovering what is new, innovative and booming. Family business Watergames & More was also present at the Expo as an exhibitor. In addition to getting acquainted with interested accommodation providers, water parks, amusement parks and other recreational companies, we acquired further market knowledge and exchanged ideas with our partner Waterplay Solutions Corp. and a number of fellow Waterplay dealers.
Ultimate experiences for your visitors
Perhaps the most striking aspect of the fair is that various kinds of experiences are nowadays being combined to create the ultimate experience. The consumer has everything in one place, and can therefore now experience simultaneously various products that were previously only available individually. Watergames & More has also executed projects comprising product combinations on request, such as De Boomgaard Holiday Park (in Renesse, the Netherlands) and monte mare (in Kreuzau, Germany), where water slides, Spray Parks & more water attractions are combined in a themed setting. This approach enables the client to provide the ultimate play value for its visitors. We are pleased to advise clients in the development of these kinds of concepts. Customisation and theming ensure that the water attraction suits both the target group and the surroundings, and our in-house design in close cooperation with the client enables us to place considerable influence on optimising the end product. See below for an impression of the custom-made water attraction created for monte mare.
Unique spray park technologies
One particular product that the family business Watergames & More presented at the Expo is the concept of Spray Parks  (interactive water playgrounds). While this is a relatively new product to Europe, it is rapidly gaining popularity. This was also reflected in the increased number of suppliers of spray parks at the Expo. However, it transpired that some Spray Parks offer a lot more than others. As Watergames & More applies unique technologies, our product is essentially different to those of other suppliers in crucial respects. For example, we use innovative nozzles, which are capable of generating the same spray pattern with lower water flow (LPM). Our finish also differs from other suppliers': by attaching the water features at ground level, on what is known as a playPHASE™, elements are readily interchangeable, safer (there is less risk of visitors stubbing their toes on protruding parts) and more watertight, than when the equipment is fixed to the floor surface.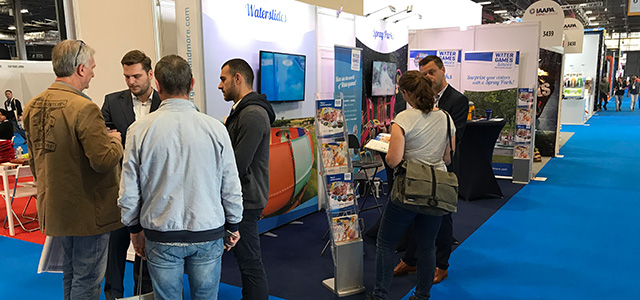 Close cooperation with our partner, Waterplay Solutions Corp., enables us to supply this kind of unique, durable Spray Park elements. Watergames & More combines a high-quality product with the added service of complete turnkey realisation, whereby we entirely relieve clients of their worries, from the design phase to the assembly and final delivery of the water attraction. This distinguishes us in the marketplace.
Increasing your attraction value
The leisure industry is both diverse and constantly evolving. The possibilities continue to expand, enabling you to surprise your guests time after time. Do you have ideas for a unique water attraction at your site? Please contact us in that case. Follow us on LinkedIn, or subscribe to our newsletter to stay informed about the latest news and developments at the family business Watergames & More.