Reading time: 3 minutes
In the world of swimming pools, Watergames & More's products serve as a marvellous addition to the fun. By investing a little more in your public or private swimming pool, you can attract more visitors and perhaps different target groups, which offers considerable commercial benefits. We have listed a few of the possibilities available, including two specific waterslides, spray parks, WaterClimbing and inflatable elements:
Waverider
The Watergames & More Waverider (also known as the family waterslide) is the ideal attraction for recreational entrepreneurs who consider the whole family their target group. The Waverider is an open waterslide and can be made up to five metres wide. This enables visitors to slide down together with a group of friends or family at the same time. The gradient of the Waverider does not exceed 35%, which makes it suitable for families with young children.
In De Krim swimming pool on the island of Texel, we constructed features including a Waverider. The swimming pool now attracts more (returning) visitors and appeals to a broader target group in terms of age. This holiday park's swimming pool has been voted the best in its class for two years in a row.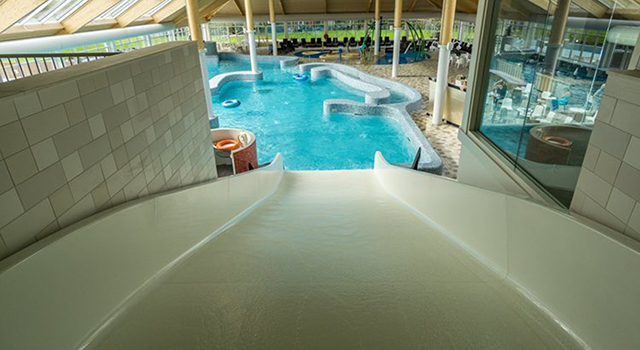 Challenger
The Watergames & More Challenger is one of the most popular waterslides. It is available in many versions: as a single tube or open waterslide, as a bodyslide or as a tyreslide. The gradient (and the associated speed) varies depending on the design. This waterslide is ideally suited for the addition of multimedia or other special effects, or for other forms of personalisation.
The Challenger at De Waterwyck swimming pool is a good example of a spectacular waterslide aimed at the youth. This waterslide is equipped with a stop/go system and interactive touch points. The more touch points that are touched during the ride, the higher the visitor's score. In addition, the time of each ride is recorded, which adds a considerable entertainment value to the slide. Visitors are continually challenged to improve their personal best, as well as the slide's all time record and the fastest time of the day.
Spray Park
Spray parks are water playgrounds with interactive water sprayers and fountains, etc., with which children of all ages can play either individually or in groups. Combinations of water jets, sound, cause-effect relationships and elements that can rotate 360° render children's water play highly interactive. The water from the sprays is sprayed onto a level floor and therefore drains away directly, which makes for an exceptionally safe playing environment. It is highly sustainable furthermore, as almost all the water is collected and reused. In creating spray parks, we cooperate closely with our experienced partner Waterplay Solutions Corp.
Beekse Bergen Safari Resort was looking for a way of offering its visitors more (indoor) diversity and attraction value. To complement the indoor swimming pool, we therefore created a spray park entirely in keeping with the animal theme, which includes a water spraying giraffe.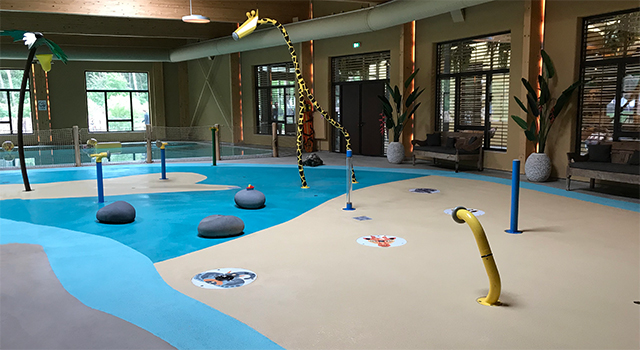 Toddler pool/Splash Area
The spray park water play equipment can also be readily combined with (new and existing) pools; thus creating a splash area. Of course, the design and layout of the toddler pool can be entirely adapted to your wishes. This enables one to turn any toddler pool into a spectacular attraction, suitable for the target group(s) you are keen to appeal to. We recently realised a splash area In the De Soeverein sports complex in Lommel (Belgium).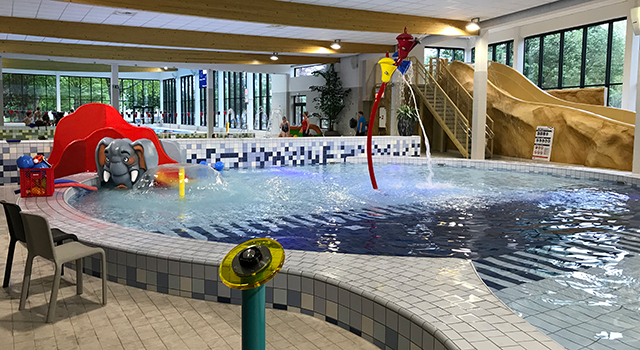 WaterClimbing
WaterClimbing is climbing above the water, on climbing walls that tower up to nine metres above the surface. On reaching the summit, the climbers plunge into the water. WaterClimbing combines sports, games, adventure and fun in one spectacular attraction for young and old alike. The climbing walls are accessible to everyone. Even the inexperienced can climb safely, with no need for either an instructor or climbing equipment. The swimming pool currently under construction in Emmen will also feature a climbing wall.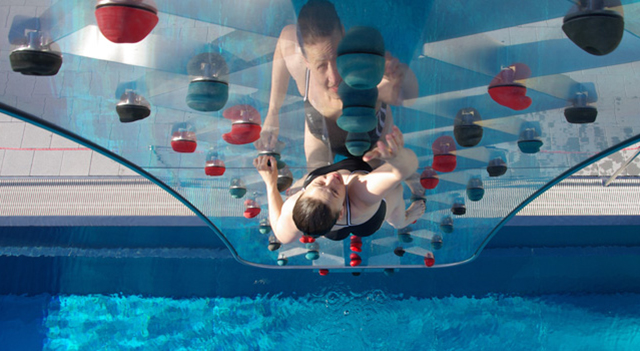 Inflatable elements
Inflatable elements enable you to swiftly and conveniently build a spectacular obstacle course on the water. Children and adults are then challenged to climb, clamber, jump and slide. The modular concept applied offers ample scope to design the pool as you wish. The smallest elements are just a few metres long, and therefore also suitable for small pools. Components can also be interconnected (in the sequence of choice) to create an obstacle course. A 25-metre pool can accommodate a course up to 19 metres long.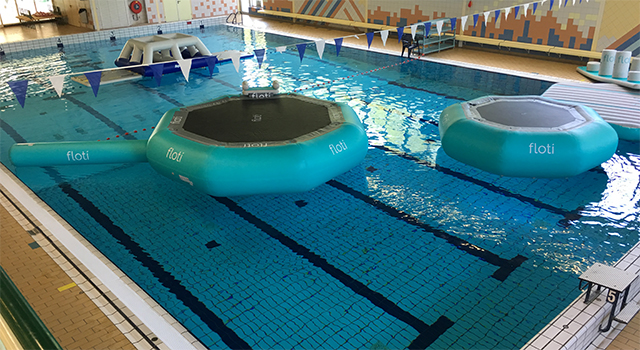 Want to know more?
Interested in learning about the possibilities for your swimming pool? If so, then call us for tailor-made advice: +31 (0) 79 206 5060.
The partner in facilities for play on, around, with and in water.
Watergames & More supplies turnkey water attractions, including Spray Parks, from design to installation and maintenance. Attention and service are of paramount importance to this family business. We relieve our clients of any worries throughout the process. Thanks to our accurate translation of your individual requirements into the design, and the application of high-quality products and skilled people, any further expansion, replacement or new purchase is guaranteed to yield a successful attraction.
Want to stay informed about our developments? If so, then follow Watergames & More on LinkedIn or subscribe to our newsletter.