Interesting for: swimming pools, architects and consulting agencies.
Reading time: 2 minutes
WaterClimbing is climbing (a.k.a. bouldering) above the water, on climbing walls that tower up to nine metres above the surface. It boosts a recreational pool's attraction value, while occupying only a relatively small amount of space. Read more about WaterClimbing below.
There are several types of WaterClimbing equipment available. Whatever the height required, the site (indoor or outdoor pool) and the requirements involved (e.g. a climbing wall with a roof element or retractable base section), we invariably come up with a climbing wall to suit your recreational pool.
The climbing walls are accessible to everyone. Even the inexperienced can climb safely, with no need for either an instructor or climbing equipment. On reaching the summit, the visitors can simply plunge back into the water.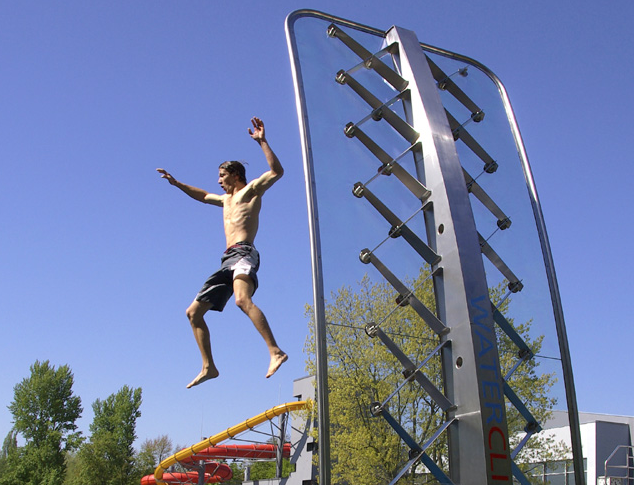 Minimum space requirements
Given that their structure comprises a single pylon (rather than several girders, for example), our climbing walls occupy a minimum amount of space. And thanks to the retractable base section, they occupy no space whatsoever in the pool (once the base section is folded away). In fact, a climbing wall can be installed above pools with a depth of 1.8 metres or more.
New European standard
The safety regulations applicable to water climbing walls were amended in 2019: The DIN EN 17164 standard was implemented, which means that all European countries now have to apply the same health and safety regulations for water climbing walls. The new standard contains several minor amendments to that previously applicable, DIN 79001. The main difference is that the applicable safety zone surrounding climbing walls up to four metres high has been reduced slightly. This implies that it is now also possible to install a climbing wall in areas that were previously deemed too small.
Gradual inclines
A climbing surface has to feature various degrees of steepness if it is to provide a varied range of attractive climbing routes. This is primarily achieved by incorporating numerous angles or slopes. Thanks to the unique characteristics of our product line, our climbing walls have smooth transitions between the various degrees of steepness (angles) on the climbing surface.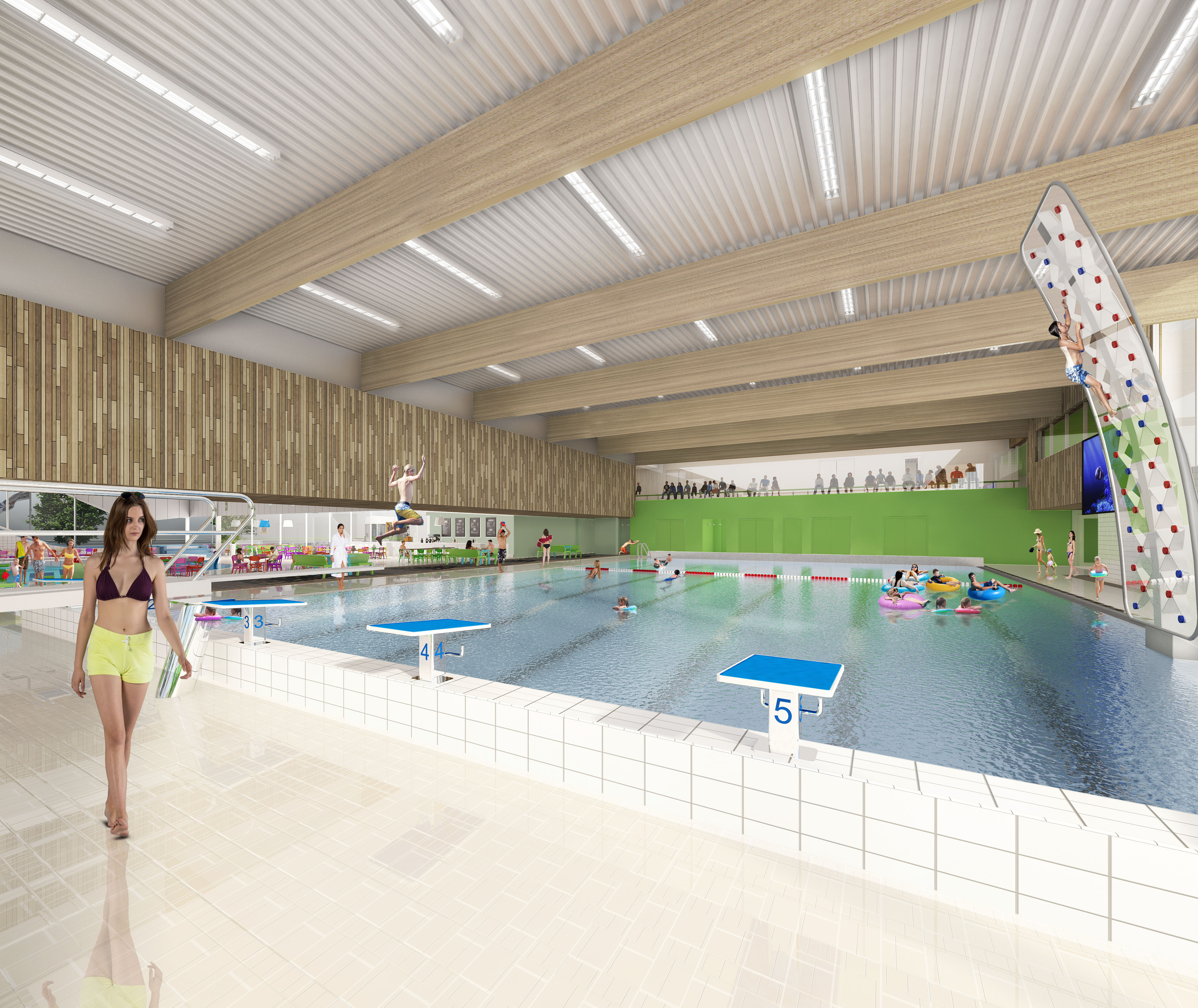 Need further advice?
A suitable climbing wall consists of more than just a sloping panel with various coloured holds screwed to it. Opt for quality and safety therefore, to assure both yourself and your visitors of the benefits of a suitable climbing wall for many years to come. We would be pleased to apply our knowledge and experience in advising on the appropriate choice of water climbing wall. Please contact us for further information and tailored advice.