Reading time: 2,5 minutes
Increasing numbers of holiday parks and campsites opt to add water games to their facilities. This enables them to increase their attraction value, broaden the target group and gain greater control of visitor numbers throughout the year. Numerous campsites have already opted to implement stunning water games: we have highlighted four of them.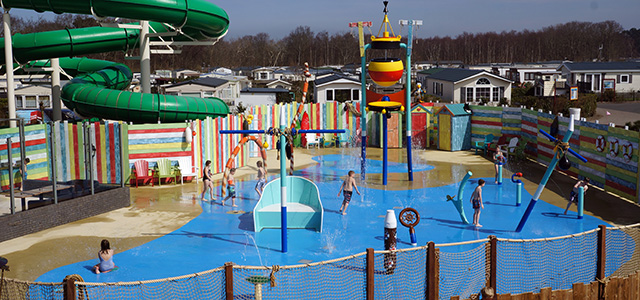 Julianahoeve campsite
A leading campsite, camping Julianahoeve in Renesse, Zeeland (The Netherlands), is committed to ensuring that children and their parents have fun. Water games can play a vital role in this regard. It therefore decided to create a themed Spray Park that matches its own unique house style. In collaboration with Jora Vision, Watergames & More designed a Spray Park measuring no less than 265m², which is full of water play equipment supplied by Waterplay Solutions Corp. The Spray Park's features, such as the Mega Soaker, are also jam-packed with full of references to the surroundings of the campsite; the beach, water sports, the province of Zeeland and the local landscape.

De Boomgaard holiday park
A few years ago, Vakantiepark De Boomgaard in Westkapelle, Zeeland, chose to renovate its existing facilities and add new attractions to its campsite. The unique water attraction that Watergames & More supplied offers every age group a means of enjoying the water. The attraction comprises three Watergames & More water slides, namely the Waverider, Challenger and Jiggler, as well as a Spray Park. The water slides and water play equipment are fully themed. The design of the water attraction was inspired by Zeeland's landscape and has a warm and playful character; a real eye-catcher on the campsite. Visitors to De Boomgaard campsite have since proven highly enthusiastic about its stunning water attraction.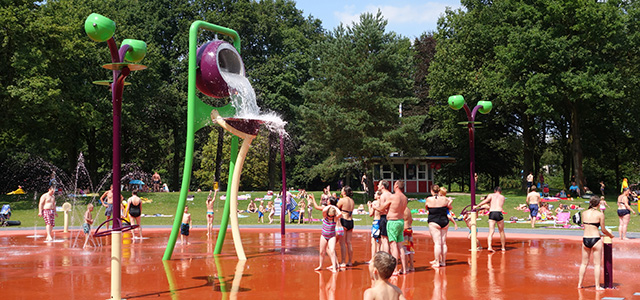 Molecaten Park Bosbad Hoeven
A leading holiday park, Molecaten Park Bosbad Hoeven in Brabant, commissioned Watergames & More to create a challenging water slide and splashing Spray Park in the summer of 2014. The park was keen to appeal to children of all ages, while also increasing its attraction value. Watergames & More therefore constructed a 676m² Spray Park comprising two separate zones. The first zone was specially designed for infants and toddlers, which Waterplay Solutions Corp. has dubbed its Grassland Series. The second zone contains water play equipment from Waterplay Solutions Corp's Revolutions Collection, which is intended for older children. In addition, children and adults can challenge one another to descend the four-lane Watergames & More Superslider as quickly as possible. Watergames & More carried out turnkey delivery of both the Spray Park and the waterslide, including the foundations, water treatment systems and certification. Following completion of the project, visitors to Bosbad Hoeven can rely on experiencing the utmost enjoyment water has to offer.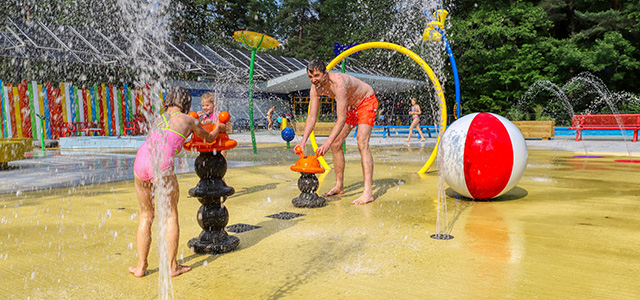 Photographic source: Landgoed De Berenkuil
Landgoed De Berenkuil
A prominent family campsite, Landgoed de Berenkuil was keen to appeal to a broader target group by adding water attractions for children of all ages to its existing swimming pool. Watergames & More therefore developed a unique design that blends seamlessly with both the corporate identity of the family campsite and the surrounding area. All elements in the 180m² Spray Park reflect features of the province of Drenthe. For instance, the substrate reflects its dunelands, the Discovery Stream its rivers and brooks and the boulders its dolmens. Given that interaction with water is an important spearhead in the design, the water features are turned on and off according to an entirely random sequence, thus surprising the young playmates time and time again. The launch of the Spray Park at the end of May 2019 was also a highly effervescent occasion.
Water play equipment from Watergames & More
A unique water attraction can be constructed entirely in keeping with your wishes. Together with you, we determine which target groups and ages you want the water attraction to appeal to, and therefore your exact requirements. For example, we can jointly establish whether a water slide, Spray Park or other (custom) attraction would best suit your campsite. You may wish to check out our products or contact Watergames & More for tailored advice.
Want to stay informed about our developments? If so, then follow us on LinkedIn or subscribe to our newsletter.