Reading time: 1,5 minutes
Of interest to: Leisure accommodation, day recreation, swimming pools, Amusement parks and Public spaces.

Watergames & More has completed its round of trade fairs for the 2022 season! Throughout the past few months, we have enjoyed taking part in the IAAPA Expo, ZwembadBranche Dag, Interbad and the Recreatie Vakbeurs.
During these events, we welcomed a lot of visitors with interesting questions to our stand. This enabled our trade fair team to offer them sound advice. It also prompted several site visits. During the fairs, we had ample opportunity to clearly point out why water is the most splendid toy imaginable!
We remain at your service
Didn't you find time to come and meet us this past trade fair season? No problem. Having just completed a well-attended season, our team nevertheless remains at your service. We fully appreciate that selecting a water attraction for your site can prove a daunting task. Our experts would therefore be more than happy to help you choose the appropriate water slide, spray park, water play structure and/or inflatables. Furthermore, our team of enthusiastic professionals designs innovative water play concepts, both with an eye for detail and at all-inclusive prices.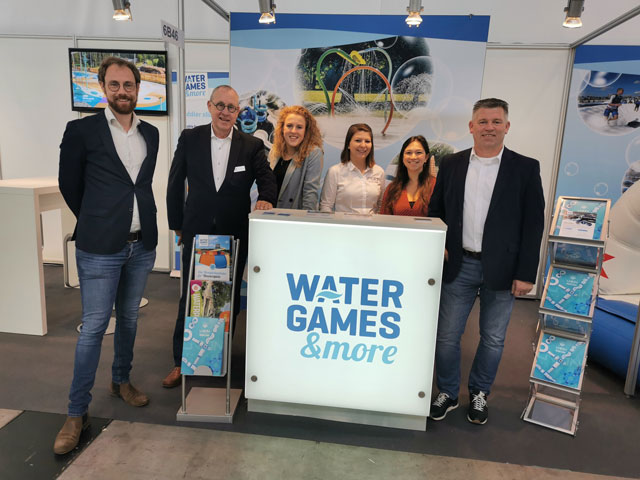 Entirely worry-free
Our extensive full-service package enables us to relieve you of all your worries regarding design, construction, installation and maintenance. We also allocate you a single point of contact, who is familiar with your site, target group and wishes. This renders both clear communication and rethinking matters far easier! You can therefore rest assured of never facing unpleasant surprises.
Whatever water attraction you opt for, we can construct it for you. And carry out turnkey delivery, too. Do you require either further information or an adept sparring partner in the field? If so, do not hesitate to contact us at info@watergamesandmore.com.
Further information
Are you curious to learn what we could do for your recreation site? In that case, please do not hesitate to contact us. We would be happy to tell you more about the possibilities. Want to stay informed about our developments? If so, then follow us on LinkedIn or subscribe to our newsletter.
25 Oct 2022 - Projects
Reading time: 1,5 minutes Of interest to: Leisure accommodation, day recreation and swimming pools. Having joined forces with Union Aquaparks, Watergames & More is the supplier of high-quality play elements for use on water, k...
11 Oct 2022 - Projects
Reading time: 1,5 minutes Of interest to: Swimming pools, Leisure accommodation and Swimming pools. Before the start of the summer holidays 2022, Watergames & More constructed various Spray Parks both in the Netherlands and fu...