Reading time: 1,5 minutes
Of interest to: Leisure accommodation, day recreation and swimming pools.

Having joined forces with Union Aquaparks, Watergames & More is the supplier of high-quality play elements for use on water, known as inflatables. When combined, these inflatables form a course suitable for both in and outdoor use. They are also highly suitable for existing indoor pools. You have the option of purchasing anything from a single inflatable to an entire course. Guaranteed recreational fun for young and old alike.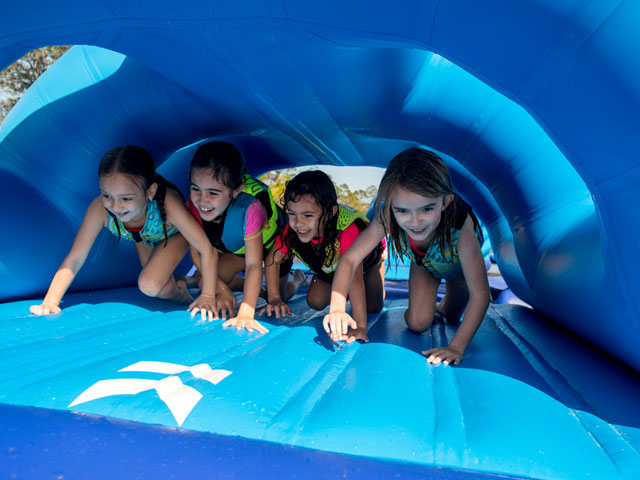 Swift supply
Enjoy the fun that inflatables provide this autumn already! These play elements can be swiftly supplied. You can therefore boost the attraction value of your indoor or outdoor pool within just two weeks.
Quality product
Union Aquaparks' inflatables are distinguished by their exceptional quality and modular structure. They can therefore be interconnected and substituted for one another highly conveniently. Union inflatables are manufactured from high-quality PVC fabric, which is TÜV certified. Its resistance to both UV rays and mould growth vouches for an extended service life. Drop-stitch seams ensure that the elements remain in shape even under high pressure Furthermore, Union inflatables retain their pressure longer than the average inflatable play elements on the market.
Their non-slip surface also offers users better grip. Smart safety features prevent the elements from detaching on the water, thus preventing any risk of becoming trapped.
Bespoke course
The Union Aquaparks collection comprises some 35 different inflatables. When combined, these elements provide a variety of features and levels of difficulty. Readily extendable from a single or several elements up to a long course. The course can be used entirely according to your wishes by changing the order of the elements. The inflatables enable you to offer 30 to 250 people at a time an unforgettable experience on water.
A section of our stand has been specially set aside to let you experience the look and feel of an inflatable yourself! Curious about this product? Grasp the opportunity to visit our stand in that case!
Further information
Are you curious to learn what we could do for your recreation site? In that case, please do not hesitate to contact us. We would be happy to tell you more about the possibilities. Want to stay informed about our developments? If so, then follow us on LinkedIn or subscribe to our newsletter.
11 Oct 2022 - Projects
Reading time: 1,5 minutes Of interest to: Swimming pools, Leisure accommodation and Swimming pools. Before the start of the summer holidays 2022, Watergames & More constructed various Spray Parks both in the Netherlands and fu...
12 Jul 2022 - Projects
Reading time: 1.5 minutes Of interest to: Leisure accommodation, day recreation, leisure accommodation, amusement parks, swimming pools and municipalities The pool known as swimming pool De Kimpel (BE) has a challenging water attr...