Of interest to campsites. Reading time: 2,5 minutes.
Increasing numbers of holiday parks and campsites opt to add water games to their facilities. This enables them to increase their attraction value, broaden the target group and gain greater control of visitor numbers throughout the year. The editors of Pretwerk.nl recently wrote in this article that anyone who invested in summertime attractions during the past decade has reaped considerable benefits. When it comes to adding water games to recreational activities, spray parks are both a highly suitable solution and a favourable investment.
Spray parks are water playgrounds with interactive water sprayers and fountains, with which children of all ages can play either individually or in groups. Combinations of water jets, sound, cause-effect relationships and elements that can rotate 360° render children's water play highly interactive, which surprises time and time again.
The possibilities of setting up a spray park
No two campsites are the same. And we therefore supply custom-made water games and ensure that we make each Spray Park unique. We discuss your wishes with regard to the spray park in terms of target group, design and appearance. Based on these requirements, our experts draw up a well-considered selection and a unique design together with you. The following are some of the considerations that have to be borne in mind when creating a design.
Target group
The target group is leading for the design of the spray park, as each age category has different needs. The play areas of a Spray Park can be set up for age groups of 0-4 years, 5-8 years and 9-12 years. And it goes without saying that older children and parents/grandparents can also enjoy the Spray Park.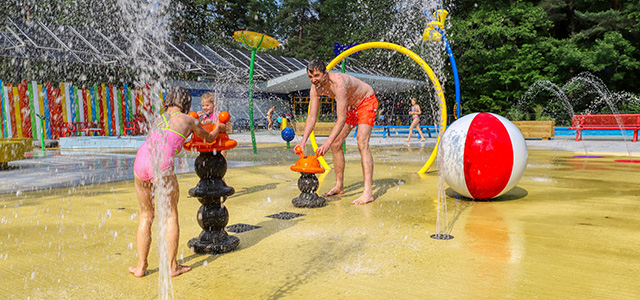 Photographic source: Landgoed De Berenkuil
Site
As a spray park can be built on a flat floor, for example, it is not necessary to invest in a swimming pool, although the water play equipment can also be installed on the pool edge or in a pool, thus creating a Splash Area. A spray park offers added value both indoors and out; even in less sunny weather, the promise of water play attracts visitors.
Appliances
Our partner, Waterplay Solutions Corp., has designed interactive elements based on intensive research into the learning behaviour of children. It is the variation in spray patterns that keeps children active and captivated. With a choice of more than 150 elements, the possibilities are basically endless. By opting for different (interchangeable) nozzles and a varied spray programme, one can also set up the spray pattern in a highly versatile fashion.
Appearance
The use of themes and colours can make the spray park's equipment and surroundings unique. The equipment has themes such as Grasslands, Shoreline and Nautical, and can be further personalized by means of unique graphics and various colours. We can even integrate company logos or other images into the spray park for optimal brand visibility and a connection with the surrounding area.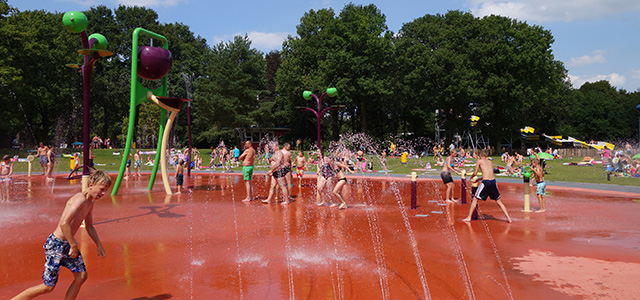 Advantages of a spray park
A spray park is a safe and sustainable playing environment. The water from the sprinklers ends up on a flat floor and is immediately discharged, so that there is no risk of drowning. Children of all ages can play there carefree. The water from the sprinklers is sprayed onto a level floor and therefore drains away directly, thus avoiding any risk of drowning. This is highly sustainable furthermore, as almost all the water is collected and reused. In addition, it makes for low water and power consumption, while no complex water treatment system is required to keep the water at the appropriate quality. As a result, start-up, operating and maintenance costs are surprisingly low, particularly when compared to those of a swimming pool. A spray park can also be readily extended in the future in a modular way, offering you the opportunity to surprise your guests every season with a new water play system.
Are you curious about the possibilities of setting up a spray park on your holiday park or campsite? Please do not hesitate to contact us for tailor-made advice. Furthermore, you can follow us on LinkedIn, or subscribe to our newsletter to stay informed about the latest developments at Watergames & More.