Reading time: 1.5 minutes
Of interest to: day recreation and municipalities
The Jip & Janneke playground at Baambruggestraat had an existing paddling pool that was used in the summer. It needed quite a bit of attention, however, while offering little play value. Inspired by Capelle aan den IJssel, the municipality therefore decided to have Watergames & More convert the toddler pool into a Spray Park. In doing so, it created a social meeting place for young and old alike, which offers children a unique means of playing and discovering.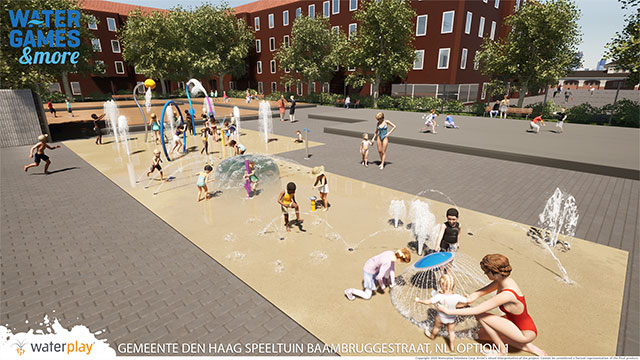 Former situation
In the former situation, the paddling pool's water quality could not be guaranteed continuously. During its summer period of use, it therefore had to be filled with water each morning and emptied again in the evening. This depended heavily on the voluntary efforts of local residents. The effective season was often short therefore, as the pool was only filled on particularly pleasant days. The water was nevertheless pretty dirty at the end of the day, due to intensive use.
Current situation
The Municipality of The Hague chose a design from the range of Waterplay equipment. Watergames & More executed the turnkey project, using the existing paddling pool as a structural base to build the Spray Park.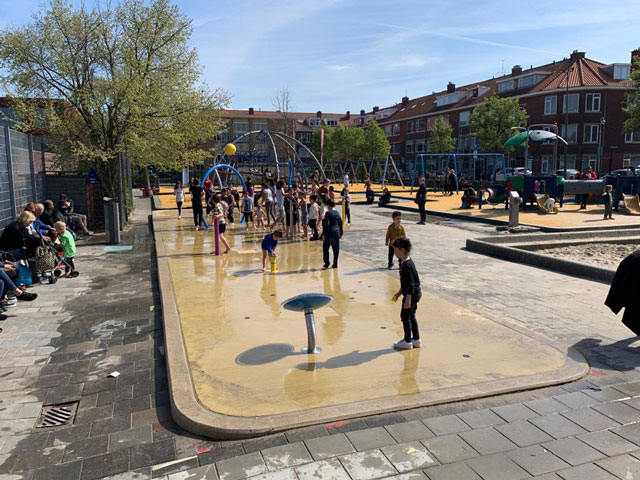 Now the pool has been converted into a Spray Park, children can play there daily throughout the season. The water quality is kept up to scratch during the day by a special buffer and basement plant room, so the water is no longer dirty at the end of a splendid long hot summer day! Nor do the residents have to play a vital role in the facility's management. Furthermore, active supervision is no longer required, as there is no danger of drowning.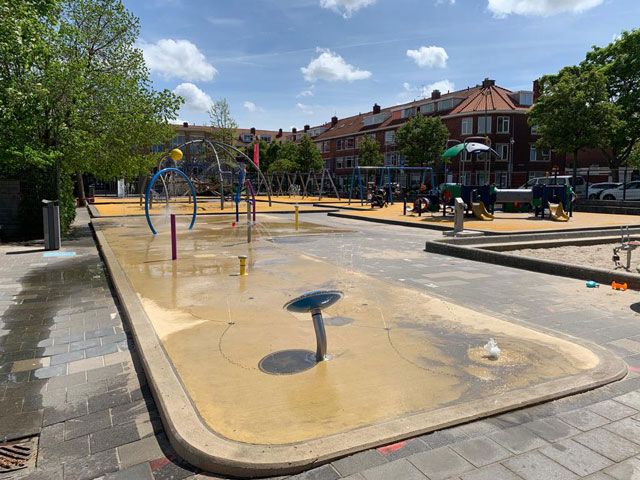 Advantages of a spray park
A spot that offers all a municipality's resident or visitor could wish for: It is possible with a Spray Park! The construction of this kind of interactive water play area has become a trend in cities. Water play helps reduce heat stress and has a positive effect on human health, as it promotes physical activity. Furthermore, active supervision is no longer required, as there is no danger of drowning. And last but not least, a Spray Park is sustainable, as it consumes little water and electricity and almost all the water is collected and reused.
More information?
Would you like further details of these fairs, or are you curious to know what information we might provide there? Please contact us. Want to stay informed about our developments? If so, then follow us on LinkedIn or subscribe to Newsletter.
08 Jul 2019 - Projects
Capelle aan den IJssel wants to make the municipality more appealing. As part of this prestigious project, Watergames & More will realise a public Spray Park in the Schollebos area in Capelle aan den IJssel. The Spray Park will make ...