Reading time: 1 minute.
Every Spray Park created by Watergames & More is unique. Together with the client, we discuss the wishes for the Spray Park in terms of target group, design and appearance. We can fully thematise the design on the basis of those wishes. Even city and company logos can be integrated into the Spray Park, for optimal (brand) visibility in a Spray Park.
An element that is extremely suitable for personalisation is the Lily Pad from our supplier Waterplay Solutions Corp. This is a ground spray element with a diameter of around 60 cm, which is cast into the floor of a Spray Park. The Lily Pad has an anti-slip surface. The spray pattern depends on the chosen nozzle.
The Lily Pad is available in five standard graphics:

Image source: Waterplay Solutions Corp.
It is also possible to personalize the Lily Pad in any desired graphic, including company logos, city coat of arms, house styles and patterns. In most cases, such customization can even be done free of charge, depending on the document provided by the client. A few possibilities are shown below.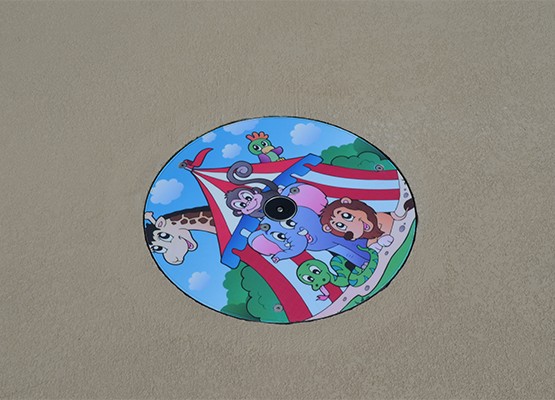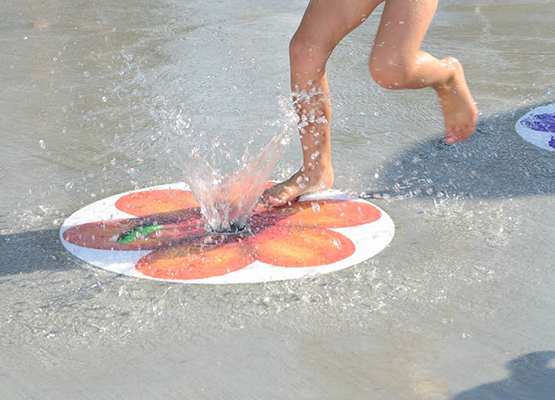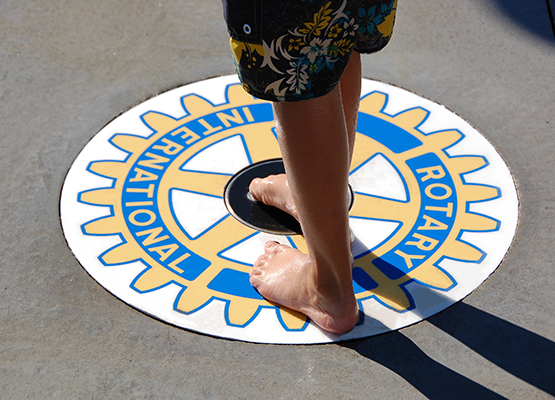 Source photos above and below left: Waterplay Solutions Corp.
Want to know more?
Curious what the possibilities are for your company or municipality? Then visit our productpage or contact us for tailor-made advice: +31 (0) 79 206 5060.
The partner for playing on, around, with and in water.
Watergames & More provides turnkey water attractions, including Spray Parks, from design to assembly and maintenance. Attention and service are of paramount importance to this family business, whereby the client is provided with a full-service solution. By correctly translating individual wishes into the design, high-quality products and skilled people, every expansion, replacement or new purchase is guaranteed to be a successful attraction.
Want to stay informed about developments? Then follow Watergames & More on LinkedIn or subscribe to our newsletter.