Reading time: 1 minute
Interesting for: Swimming pools, Leisure accommodation, Day recreation, Public spaces

We have developed our own double racer waterslide! Our philosophy in developing this product was to achieve maximum flexibility in design, thereby offering clients optimum choice. The two tracks comprise tube sections with a diameter of one metre, which first diverge then merge once again. From this point onwards, the two tracks' partly open sections run side by side, thus forming a so-called double track manufactured using a single mould.
Ultimate spectacle
On the open sections, users can see one another and therefore assess whether they are in the lead or behind. The track then splits into two separate O1000 tube sections. This encourages the user to do their utmost to achieve optimum performance.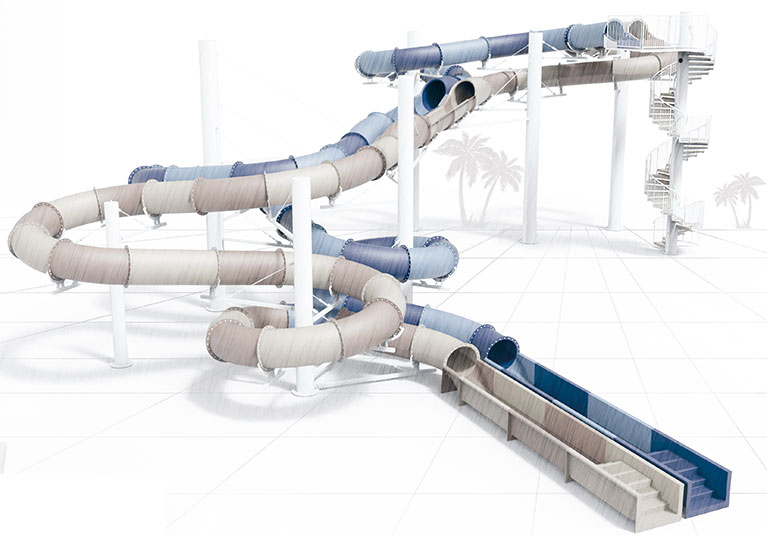 Operator flexibility
It all commences at the start of course, where there is the opportunity to fit the double racer with a traffic light system with synchronisation option, similar to the authentic race set-up of "lights out and go", complete with a countdown and racing option. Should the attraction become too busy, however, the operator may opt to disengage the system, with a view to speeding up the flow and therefore increasing user capacity.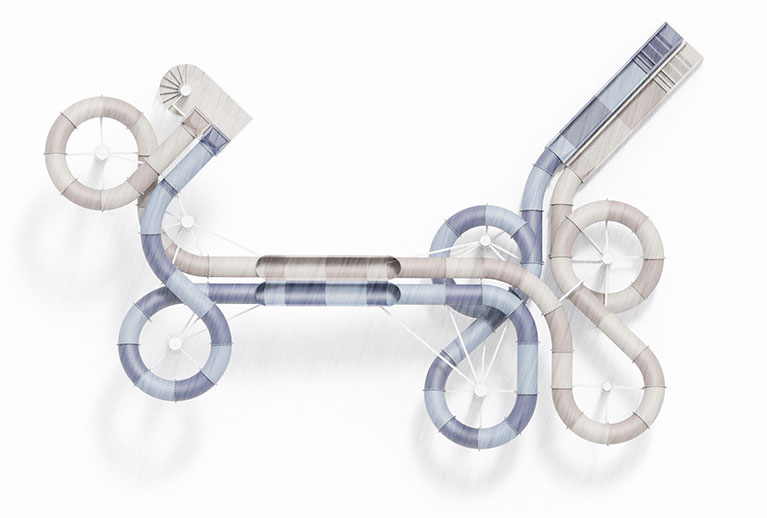 Multifunctional
When in free use (i.e. not in "race mode") the double racer is a waterslide that offers double the capacity of a traditional waterslide, thanks to its dual tracks. The double racer can also be run beyond the exterior wall, in which case the two open sections are naturally enclosed using (transparent) acrylic panels.
Watergames & More manufactures the double racer using its own moulds, which vouch for maximum quality control. The slide can be used as either a body slide (without accessories) or a mat racer (with accessories). Of course, the double racer can also be equipped with exciting daylight effects and LED lighting from Watergames & More's own multimedia range.
The first double racer projects are to be executed this year!
Vacancies
We are looking for new employees to take part in all of our splendid projects. Check our vacancies!
More information?
Would you like further details of these fairs, or are you curious to know what information we might provide there? Please contact us. Want to stay informed about our developments? If so, then follow us on LinkedIn or subscribe to Newsletter.

Downloads

Related posts
26 Apr 2022 - Projects
Reading time: 1.5 minutes Interesting for: swimming pools Watergames & More has taken on a super cool project for Tropical Islands, Europe's largest water paradise located just south of Berlin. Watergames & More will ...
12 Apr 2022 - Expertise
Reading time: 1.5 minutes Interesting for: day recreation, residence recreation, swimming pools, amusement parks and municipalities During the course of last year, Watergames & More developed a completely new set of moulds for ...