Reading time: 1 minute
Of interest to: swimming pools
Watergames & More has been commissioned to construct three spectacular waterslides and a Spray Park for the newly built Van Tuyllpark swimming pool in Zoetermeer. This is a special assignment, as it implies that Watergames & More will be working in its home town. We are therefore very keen to set to work on this project. What makes the assignment even more pleasing is that Watergames & More has been involved in the plans for the new swimming pool from the very outset, initially offering advice without further obligation, and ultimately securing the contract.
Three waterslides
The newly built swimming pool in Zoetermeer opted for a wide variety of water slides: a Challenger, a WaveRider and a ThrillSeeker. The ThrillSeeker is our most extreme waterslide. It is therefore suitable for braver-than-average users only. The ThrillSeeker's incredibly steep gradient and extremely high speed make the ride truly spectacular. The Challenger (long tube slide) and WaveRider (open slide that several people can ride simultaneously) in contrast, are family slides.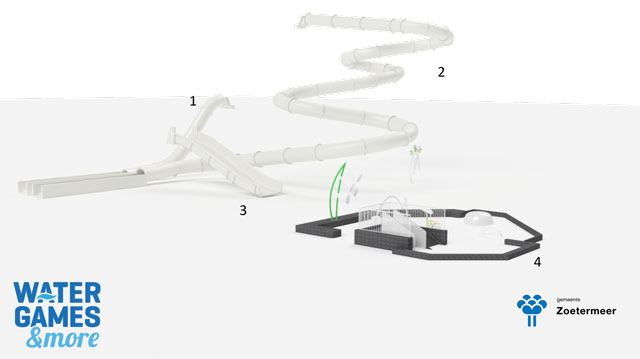 Aquatic fun for younger children too
Besides waterslides that are bound to get the older visitors' adrenaline pumping, attention has also been paid to the amusement of the younger generation. Watergames & More is to construct an outdoor Spray Park and an indoor paddling pool to cater to this target group's needs. Both the Spray Park and paddling pool comprise various items of equipment supplied by our partner Waterplay Solutions Corp.
Delivery
The new swimming pool complex and associated water attractions are expected be commissioned in early 2023.
More information
Would you like further details of these fairs, or are you curious to know what information we might provide there? Please contact us. Want to stay informed about our developments? If so, then follow us on LinkedIn or subscribe to Newsletter.
07 Dec 2021 - Projects
Reading time: 2 minutes Of interest to: day recreation, leisure accommodation, swimming pools, amusement parks and municipalities Watergames & More ensures that your dreams come true. As part of this process, Watergames & M...
18 Nov 2021 - Team
Reading time: 1 minute Interesting for: all customers and relations Watergames & More is growing fast! To serve our customers even better we have appointed Laura Poortman as our new designer. Laura joins our design team along...