Want to add a splendid water attraction to your site? As of November 2020, Watergames & More has a new product in its range, namely Union Aquaparks. Union Aquaparks are challenging courses comprising floating climbing equipment, trampolines and slides. While the elements in question can be linked together, they are also suitable for stand-alone use. Our Union Aquaparks enable you to surprise visitors with a splendid water attraction, while lending your site an additional fun factor.
Union Aquaparks
Union Aquaparks provide endless play fun on water. Union products enable you to swiftly and conveniently construct a spectacular aqua park on the water. Issue the challenge to children and adults alike to slide, climb and, clamber over the exciting climbing elements slides and trampolines. Union Aquaparks are suitable for use in swimming pools, lakes and even on the sea.
A Union Aquapark adds extra excitement and experience to any swimming pool, lake, recreational lake or the sea. Union Aquaparks inflatable elements enable you to swiftly and conveniently build a spectacular obstacle course on the water. This course can be used entirely according to your wishes by changing the order of the elements. However, you also have the option of a standard course. Furthermore, as they offer the option of choosing elements with different levels of difficulty, Union Aquaparks pose a suitable challenge to everyone. Some of the elements even offer dual routes. Their white arrows indicate the easier route, and the red arrows the more difficult one.
Worry-free operation
Union Aquaparks are distinguished by their excellent quality and modular elements. In addition, Union Aquaparks are TÜV SÜD certified and comply with EN ISO 25649. As Union Aquaparks are made from a PVC fabric that is both UV and mould resistant, the elements can withstand all manner of conditions. Furthermore, the surface of the elements is sunproof so that the colour does not fade. This vouches for sustainable and worry-free operation.
Union Aquaparks elements are also easy for the operator to use. This is due to the simple means used to interconnect them. The video below explains both the principle of this connection method and how the elements are connected to each other in ten simple steps.
A Union Aquapark from Watergames & More
A Union Aquapark course can be constructed entirely in keeping with your wishes. Together with you, we determine both which target groups and ages you want the course to appeal to and the elements that are suitable for this purpose. The process of constructing the aqua park is also relatively simple. The pool usually does not need to be emptied in order to secure the elements. As the members of our team represent various fields of expertise, we can carry out all the work ourselves.
We consider it vital to provide service of equivalent quality to our attractions. You are welcome to consult us on matters concerning the particular regulations applicable for use of your Union Aquapark, while we would be pleased to advise you on how best to secure them. Our team remains at your service. Incidentally, we also offer you the option of complete turnkey delivery your Union Aquapark. We also remain at your disposal following delivery, to address any queries and proffer advice.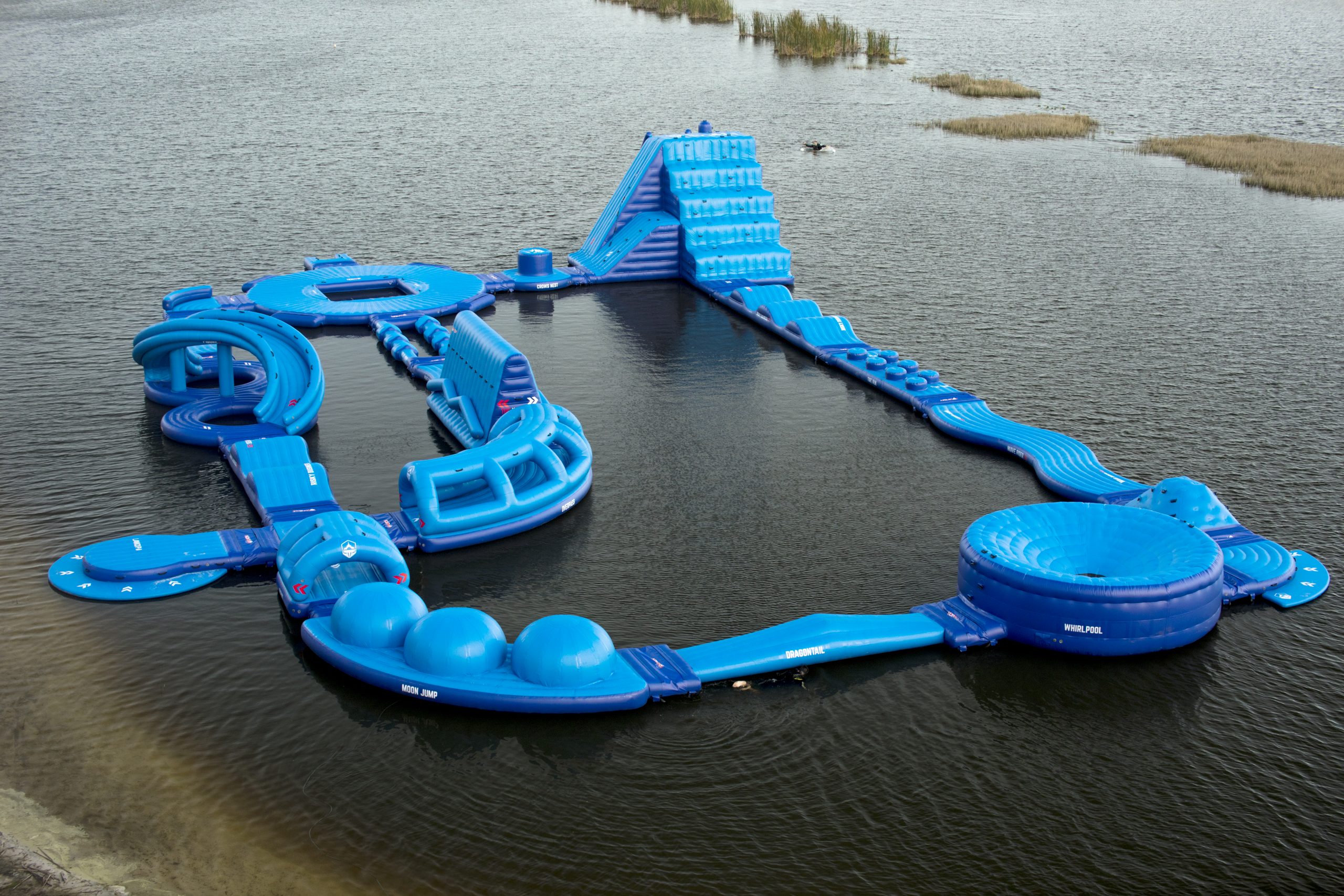 Further information and tailored advice
Are you curious to learn what Union Aquaparks could do for your site? In that case, please do not hesitate to view our Union Aquaparks page or contact us personally. Want to stay informed about our developments? If so, then follow us on LinkedIn or subscribe to our newsletter.