The brand new water slide for the Maarsseveense Plassen recreation area in Maarssen, the Netherlands, is almost ready for public use. The Watergames & More Challenger with daylight effects should add to the value of the recreational area as an attraction, while also enabling visitors from the Utrecht region, young and old alike, to enjoy themselves even more. Watergames & More has been involved in this project as an advisor and implementer from the very outset. We therefore take great pleasure in announcing that its completion is now in sight.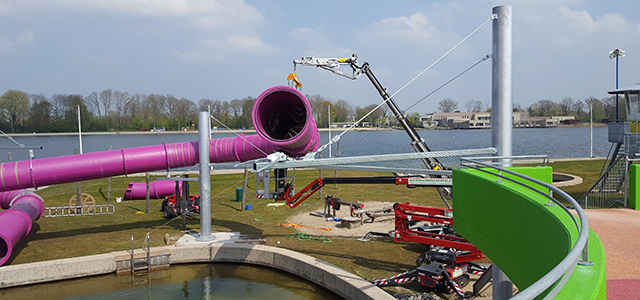 Watergames & More Challenger
The water slide that has been installed at the Maarsseveense Plassen recreation area in the municipality of Stichtse Vecht is a Challenger model. This slide challenges bathers of all ages while also featuring unique daylight effects: the slide comprises various translucent hoops, which provide a playful impression. Furthermore, the Challenger is approximately 42 metres long and starts at a height of around 4.8 metres. A guaranteed challenge!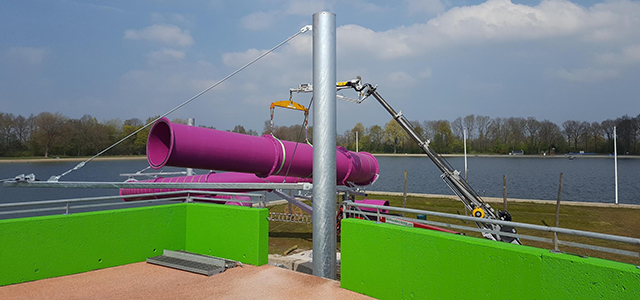 Entirely worry-free
The slide is to be supplied on the basis of turnkey delivery. This implies that Watergames & More will completely relieve the client, Recreatieschap Stichtse Groenlanden, of all related duties. We remain involved in the project from start to finish. We have supervised the project at Maarsseveense Plassen from the initial brainstorming session, through design, up to and including delivery. We assembled the tube slide and also carried out the construction work.
Commissioning
Following certification of the slide next week, we will be able to proceed with delivery. The slide will therefore be ready well in time for the summer season. The true heroes, who can stand cold water, will be able to use the slide before then, however. Curious about the end result? If so, then keep an eye on our website and social media for more pictures and a movie.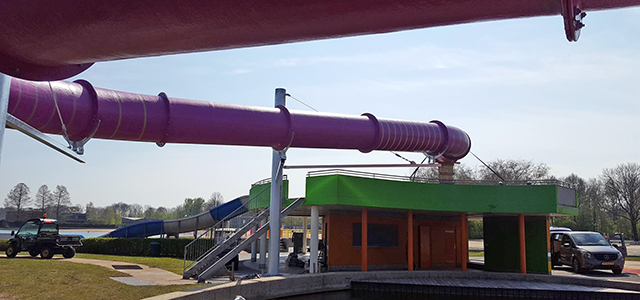 Renewed confidence in our cooperation
In 2017, Watergames & More carried out the renovation of the paddling pool in the recreation area. During the process, it was extended to include a slide in the middle of the pool in the form of a pirates' fortress, as well as crocodile and cannon-shaped soakers on either side. This time, the management therefore had complete confidence in our ability to provide stacks of additional fun for the 2019 summer season.
Water fun at your site
We can also construct a stunning water slide or other water feature at your site, with a view to increasing its attraction value. Thanks to our accurate translation of your individual requirements into the design, and the application of high-quality products and skilled people, any further expansion, replacement or new purchase is guaranteed to yield a successful attraction.
Curious about the possibilities available? Please do not hesitate to contact us for tailor-made advice, or an appointment to share a cup of coffee at our premises. Want to stay informed about our developments? If so, then follow us on LinkedIn or subscribe to our newsletter.