This summer, we are to build a spectacular, interactive waterslide at Poelmeer Swimming Pool in Oegstgeest, the Netherlands. A water slide equipped with Interactive brings you the water slide of the future… Today!
The swimming pool of the future
Poelmeer Swimming Pool in Oegstgeest was built over twenty years ago and is need of some renovation work. Earlier this year, the swimming pool's commercial operations were transferred to Optisport. Operating in more than 75 Dutch municipalities, they are dedicated to making the swimming pool completely future-proof.
Watergames & More is proud to have a major part in this renovation: we are building an amazing waterslide and equipping it with the Interactive program.

Quality with Interactive
The new water slide in Poelmeer Swimming Pool will be a Challenger – the first Challenger to have an extra large diameter of 1.2 metres. The water slide will also be completely seamless: all the segments of the water slide are held securely in place with unique tongue and groove joints so the segments fit together perfectly, guaranteeing far more durable, watertight joints.
The water slide is made from high-grade, glass-fibre reinforced polyester, manufactured entirely in-house by means of a manual lay-up production process. This means that we can guarantee that the material is of the best and most consistent quality.
Measuring about 40 metres in length, the water slide will start at a height of 4 metres; it will feature a number of curved elements and will run along most of the pool's outer edge. Several Interactive technologies, including LED lights, speakers and a camera system with social media sharing, will be built into the water slide to add to the excitement.
Versatile
An endless variety of experiences with just one water slide: guests can choose from four different programs from a touch screen. The built-in LED lights and speakers completely transform the water slide to produce an entirely different experience for each slide.

Touch Game
The water slide also contains ten tactile sensors: special interactive touch points that light up during the slide – guests can touch them to collect points. The guests' sliding times are also registered. An action shot device that captures every visitor on camera will be fitted to the end of the water slide. The photographs, sliding times and scores are then projected onto a large screen close to the pool, challenging guests to further improve their scores.
Immersive
When the guests have finished sliding, they'll find it easy to retrieve their action shots and scores on a special computer terminal at the pool's licensed café. From that terminal, they can instantly share their photographs on Facebook or Twitter. These are wonderful souvenirs for guests and the swimming pool immediately receives additional online visibility. Guests can also subscribe to the newsletter or signup for other special offers at the same time.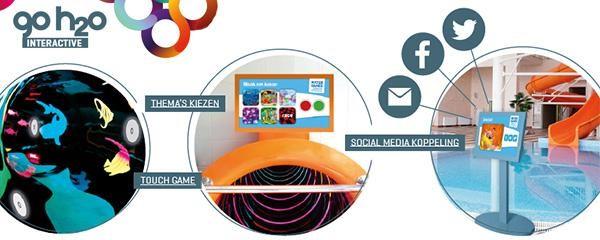 A sustainable, turnkey solution
Poelmeer Swimming Pool's old water slide is to be replaced entirely. Watergames & More will demolish the old water slide and remove all its elements by environmentally responsible means. Wherever possible, we will keep the existing elements, e.g. we will give the outer supports a new lease of life. Of course, all the existing components will be thoroughly revised and adapted so that they meet the latest safety standards.
Our extensive expertise and experience allows us to deliver a full turnkey solution. We will do all the work necessary to incorporate this water slide seamlessly into the new swimming pool, such as breaking through walls and adding casings. We will take care of all this entirely under our own management. This means we can take as much of the work involved in this ambitious renovation as possible off Optisport's hands.
Watergames & More is very enthusiastic about this marvellous project. We are proud to be entrusted with it and we are looking forward to get started. It is our mission to make sure that as many people as possible can enjoy all the fun water has to offer.
On April 4th, the swimming pool closed to the public and the renovations are now well under way. The new water slide will be finished by mid-August, with the festive re-opening of the entire pool around the same time.
Waterslides for everyone
Thanks to our vast experience, we can deliver practically any type of waterslide. Moreover, the options offered by our multimedia effects from the Interactive program are almost endless.
Here are a few examples of the options available with Interactive:
LED displays, light- and sound effects for the ultimate multimedia water-slide experience
Daylight effects for a magical fairy-tale atmosphere
Transparent water-slide sections for a breath-taking sensation
High-tech start-stop systems for a safe and efficient use of the water slide (based on sensors or predetermined intervals)
Touchscreens with program selection: guests can choose their favourite water slide experience
Time registration with real-time scoreboards showing current user times and all-time high scores
Social media integration: action shots and scores can be shared online instantly
Turnkey solutions
Because we have plenty of experience, we can supply the entire installation as a turnkey delivery. We can also take care of all technical modifications and construction work. By choosing Watergames & More, you choose top-quality products paired with top-quality service.
Should you have any new ideas for a water slide, any special designs or need a water slide that is out of this world, please feel free to challenge us to join you in realising your unique project!
If this has got you interested and you would like to know more, please feel free to contact us with any questions you may have.
You can also find more information on the Productpages.