Our waterslides are presently on the rise throughout Europe. After the United Kingdom, the Netherlands and Belgium, now Germany's first Watergames  & More waterslide is a reality.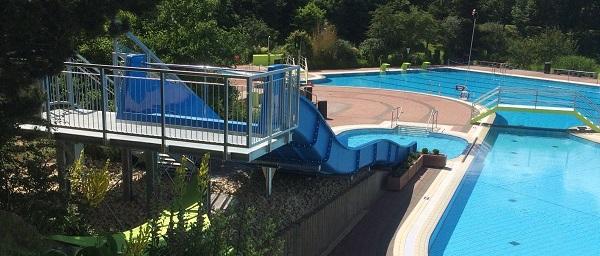 WaveRider
A brand new Waverider was opened at Wonnemar in Marktheidenfeld – Germany on Tuesday 21 June. The Waverider is a modern version of the classic wide waterslide for the whole family.
Race against time
The Waverider in Marktheidenfeld is equipped with a unique time registration system. The exact sliding times are calculated thanks to the built-in sensors and visitors can challenge each other to establish the fastest time. This makes the waterslide extra appealing to anyone who loves a challenge!
The slide is suitable for groups thanks to the wide slide-surface –no less than 3 meters. Parents and their young children can safely use the waterslide together. The Waverider is truly a waterslide for the whole family.
Seamless integration
The Waverider at Wonnemar Marktheidenfeld has a starting height of 3.3 meters and has a length of 15 meters. The new slide is a replacement of the old slide. Existing parts were reused and modernized where possible; for instance, the starting point was placed on the preexisting hill and the catch unit has also been given a second life.
The new waterslide seamlessly connects to the existing infrastructure and theme of the swimming pool. Every detail has been covered: for example, the new waterslide fits in perfectly with the existing pools by replanting the original vegetation.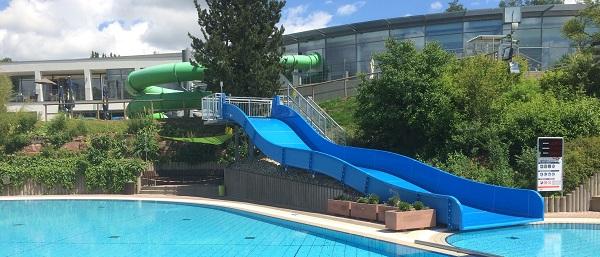 Advantages
Our waterslides are rapid, interactive and versatile. Besides the Waverider, our product family consists of countless other slides such as the Challenger, Superslider, Thrillseeker and many more.
More excitement with Interactive
Our waterslides can easily be equipped with Interactive: extra modules for even more excitement. By choosing Interactive you choose the waterslide of the future, with dynamic LED lighting, sound effects, action shot photo elements and touchscreen terminals where guests can select their own slide program.
Watergames & More waterslides stand for premium quality at a competitive price. We control production ourselves from start to finish in order to guarantee the best quality for the lowest cost. Our manual lay-up production process guarantees a compact, strong and durable high quality polyester. Stainless steel is also available for a robust and stylish sliding experience.
Experienced specialist
Watergames & More stands for premium quality and customer based service. We can always provide you with a turnkey customized installation thanks to our extensive experience. We can take care of all technical projects and construction ourselves. We also offer the option of collaborating with a (sub-) contractor of your choice.
Watergames & More gives you the option of building a dazzling water feature at every location and for every budget!
Have we aroused your curiosity for waterslides and would you like more information? Please don't hesitate to contact us or check out our product pages and brochures for more information.