Waterplay Solutions Corp., our partner in Spray Park elements, from Kelowna BC (Canada), has awarded Watergames & More two awards this week: Both the Dealer of the Year Award 2019, for excellent sales growth, and the President's Award 2019, for a good commitment to training and development and remarkable sales and marketing initiatives.
Each year, one dealer of Waterplay Solutions Corp. receives the prestigious President's Award. The winning dealer is selected on its 'above and beyond' commitment and investment in carrying out the values and promotion of Waterplay Solutions Corp. Watergames & More has elaborated their sales and marketing activities in 2019 in order to increase their market share and to explore new target groups.
The work paid off: The number of assignments grew explosively in 2019. As a result of the growth in Spray Park sales, the Dealer of the Year Award 2019 was also awarded to Watergames & More. This award represents the best-performing dealer worldwide, taking into account the extent to which the sales target has been exceeded.
Both awards were handed out this week in the production facility of Waterplay Solutions Corp. in Kelowna (British Columbia, Canada), to Paul van den Berg (founder and commercial director of Watergames & More) and Odmar van den Berg (general director of Watergames & More).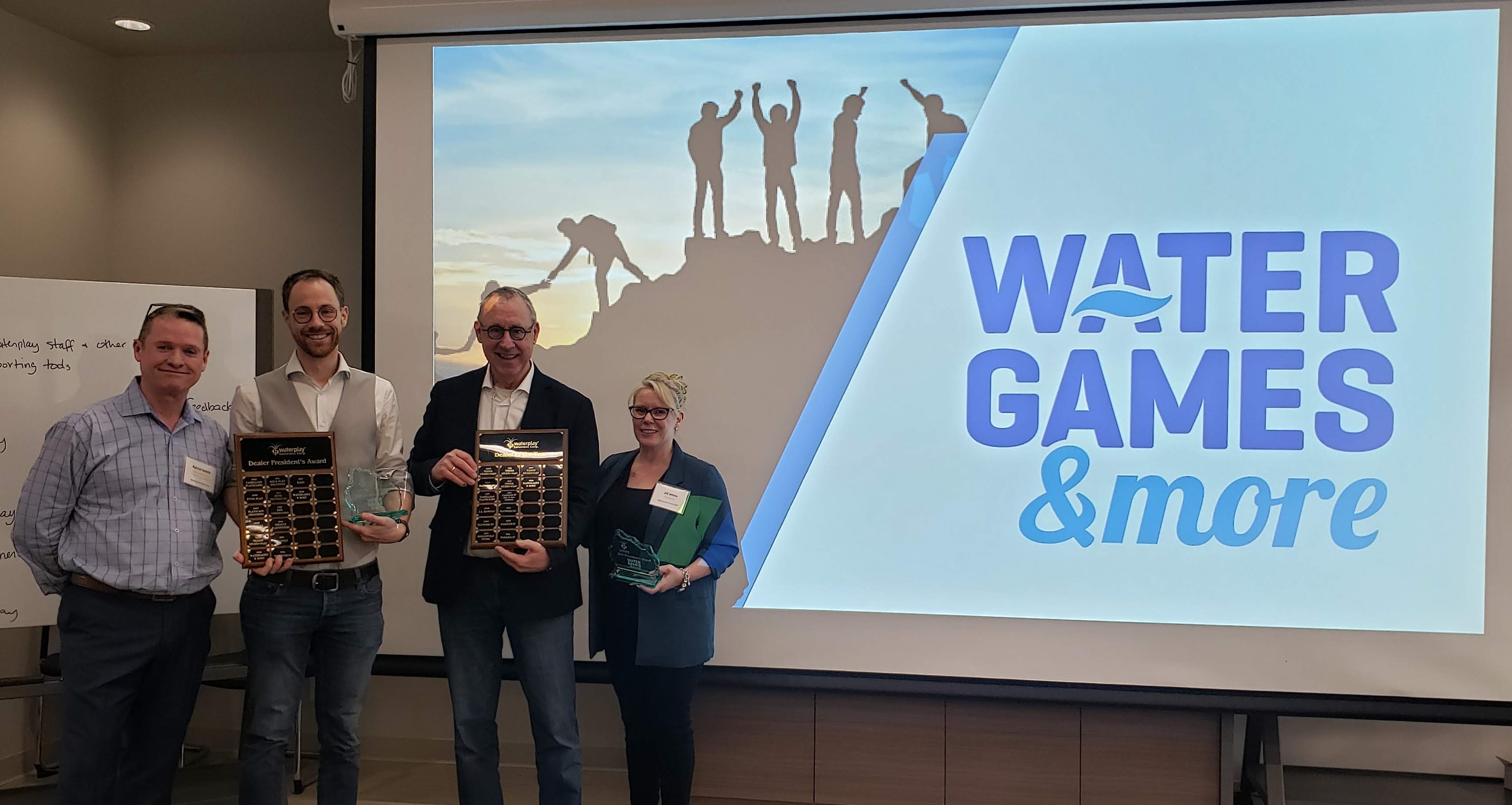 From left to right: Kerrin Smith (Strategic Growth Waterplay Solutions Corp.), Odmar van den Berg (Algemeen Directeur Watergames & More), Paul van den Berg (Oprichter en Commercieel Directeur Watergames & More), Jill White (President Waterplay Solutions Corp.).
Watergames & More has been working with Waterplay Solutions Corp since the end of 2008 and won the Presidential Award once before, in 2010.
The Watergames & More team, which has grown enormously in size in the last two years, is honored to have been able to win this award due to the efforts they made in the past year. We are grateful that this collaboration has evolved into an award-winning success, and we're looking forward to many more years of collaboration.
"I am thrilled to recognize their success. Being the recipient of both awards is a testament to the exceptional customer service that the entire team at Watergames & More provides to their customers. From innovative aquatic play designs to engaging marketing content and hands-on installation and maintenance support, they have developed a world-class offering and service for the aquatic play industry."

– Jill White, Waterplay President –
About Waterplay Solutions Corp.
Waterplay Solutions Corp. is a worldwide leading designer and manufacturer of water play equipment. With over 30 years of aquatic innovation, they believe that bringing play to communities makes the planet more livable and socially just. With thousands of installations across the world, they're excited to be a part of the movement toward a healthier, happier, global community by offering innovative aquatic play solutions designed for developing minds, thrill seekers, budding explorers, and the young at heart. Discover #theWaterplayDifference and join our movement to connect the world through play!


About Watergames & More
Family business Watergames & More creates turn-key water attractions, among which Waterplay Solutions Corp.'s Spray Parks, from design to assembly and maintenance. Personal attention and service are of paramount importance. The client is completely relieved of any worries throughout each stage of the process. With the right mix of individual design requirements, high-quality products and a skilled team, every expansion, replacement or new purchase is guaranteed to be a successful attraction.
More information?
Contact us for more information and advice. Do you want to stay informed about our developments? Then follow Watergames & More on LinkedIn, or sign up for our newsletter.