Reading time: 1,5 minutes
Of interest to: Leisure accommodation, day recreation and swimming pools, Amusement parks and Public spaces.

The splendid outdoor swimming pool known as Bosbad Amersfoort is situated in woodland surroundings. The facility comprises several swimming pools, toddler pools, slides and diving boards. In 2023, the pool will be equipped with new sustainable water play structures and several individual water play elements. These are to be supplied and installed by Watergames & More.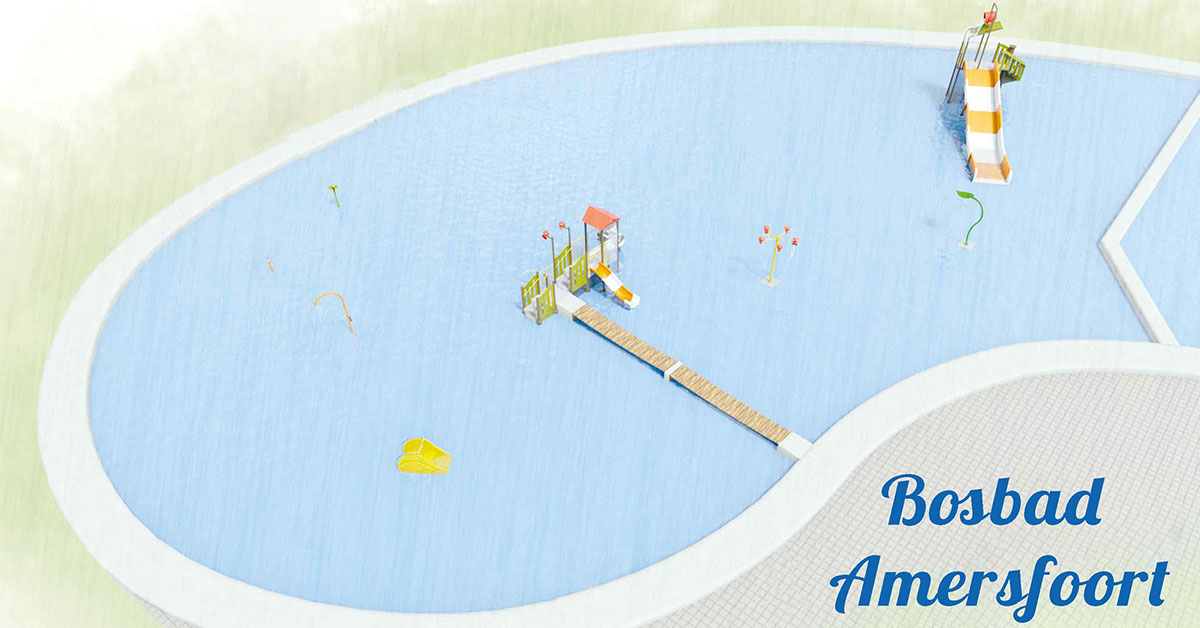 Design for both young and older children
Bosbad Amersfoort has two existing play islands. However, these islands are rather outdated and no longer meet current requirements. Its management therefore considered how the space might be redeveloped in cooperation with Watergames & More. We have our own in-house design team for such projects, which therefore interpreted Bosbad Amersfoort's wishes into a unique design. We invariably set great store by play value when designing. This hinges on factors including combined play, physical exercise, education and interaction. As a result, the water play equipment truly yields the experience that visitors rely on! The pool is therefore destined to cater to the needs of all ages. From a toddler slide to a genuine family slide.
Toddler slide: for ages 0 to 4 years
A toddler slide is to be installed in the swimming pool. It is suitable for the youngest visitors in the age bracket 0 to 4. Thanks to its readily accessible steps, the toddler slide can be easily climbed by small children. Furthermore, its stainless steel hand rail enables the kids to slide down safely.
Water play structure: for ages 4 to 7 years
The existing gangway is also to undergo a makeover. Using the low steps, children can walk up and down by themselves without slipping. The first of the water play structures will be erected upon it. This structure is suitable for children aged 4 to 7. Its low steps should enable kids to clamber up and down themselves without slipping. On reaching the top, they have a choice of two water slides that they can ride to their hearts' content. The aquatic fun will also be complemented by the inclusion of various interactive play elements around the water play structure.
Water play structure: for ages 7 to 12 years
The second water play structure is situated a little further into the pool. This structure is focused on children aged 7 to 12. Climb the spiral staircase, then descend on a wide family slide. This slide enables groups of children to share the ride simultaneously. It is a safe and open water slide. This play structure also features water play elements including a large tipping bucket and a water sprayer.
Maintaining optimal visibility
Safety measures are to be implemented around the play structures. The water play structures are both designed and erected in such a manner as to facilitate optimal supervision. Safety nets will therefore be suspended beneath the play structures, too. This should vouch for adequate supervision of the swimming area at all times.
Further information
Are you curious to learn what we could do for your recreation site? In that case, please do not hesitate to contact us. We would be happy to tell you more about the possibilities. Want to stay informed about our developments? If so, then follow us on LinkedIn or subscribe to our newsletter.
08 Nov 2022 - Projects
Reading time: 1,5 minutes Of interest to: Swimming pools, Overnight recreation, Day recreation, Amusement Parks and Leisure accommodation Water is the most splendid toy imaginable! Come and discover it at the Recreatie Vakbeurs in...
01 Nov 2022 - Projects
Reading time: 1,5 minutes Of interest to: Leisure accommodation, day recreation, swimming pools, amusement parks and public spaces From January 2023, Safari Resort Beekse Bergen will also have a Wild River. Watergames & More i...