Reading time: 1.5 minutes
Interesting for: day recreation, residence recreation, swimming pools, amusement parks and municipalities
Besides waterslides and Spray Parks we are busy with the further development of our own line of water play structures. The water play structures are real eye-catchers and are custom made. We have taken the development of children into account when developing the water play structures. When playing is fun, refreshing and exciting for a child, learning follows naturally. The new development in the water play structures line therefore focuses on cooperation, physical movement, scientific curiosity, using your imagination and accepting challenges. This supports the unique developmental phases of each child.
Full in-house development
The water play structures are developed and realised entirely in-house. For this, we have an in-house design team that translates the wishes of our customers into a unique design. We use the construction elements of our partner Waterplay Solutions Corp in our water play structures. Here we can guarantee the proven Canadian quality, realising water play structures with a lot of interactivity, low water flow and high play value.
The water play structures can be placed anywhere, depending on the available surface (e.g. concrete), even in existing situations. This is possible because no separate casting facilities are required. The structures can be easily connected to the water, often without extensive construction work, except for the possible installation of a basement plant room. This makes the water play structures of Watergames & More completely different from what is already available on the market.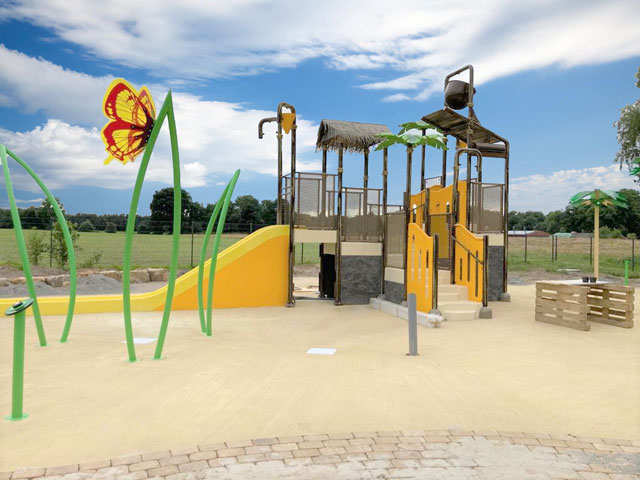 The design possibilities are endless!
A water play structure can be realised in every theme. Whether jungle, surfing, music or nature. Literally everything is possible! We always look together with our customers at what suits the location, target group and environment. Because we use connectors on which the equipment stands, the attractions can always be interchanged to offer your guests a different experience. The connectors also make it possible to start with a sprinkler in the water play structure and later expand to a tipping bucket, for example. In this way, you will surprise your guests time and again!
A water play structure can start modestly, for instance with one platform. From this platform the structure can be shaped and expanded to a structure extending to several metres with high waterslides. By creating multiple platforms with different routes, a separate zone can be created for younger children and older children. Our in-house design team can develop the water play structures as small or large as our customers wish. Also almost all types of waterslides can be attached to this structure.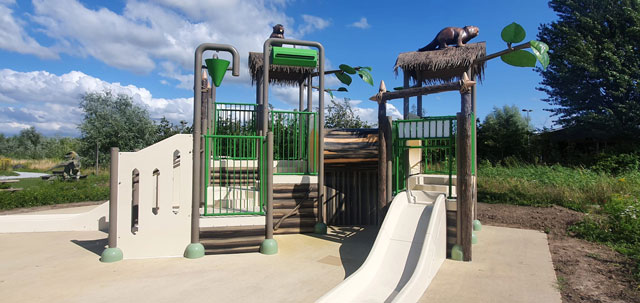 First water play structures already in use!
The first water play structures have already been realised this spring. For example, at Historyland we have created a water play structure with the theme "beavers", and at Eis Greissler in Austria with the theme "ice cream". This autumn, we will also realise water play structures for Freizeitbad Copa Ca Backum and Hallenbad Aquaferrum Friesoythe.
More information?
Would you like further details of these fairs, or are you curious to know what information we might provide there? Please contact us. Want to stay informed about our developments? If so, then follow us on LinkedIn or subscribe to our newsletter.
22 Jun 2021 - Projects
Reading time: 1.5 minutes Of interest to: Leisure accommodation, day recreation, leisure accommodation, amusement parks, swimming pools and municipalities Watergames & More is shortly to construct a custom made water playgrou...