A Slide Activity Centre is the latest sensation in interactive and challenging water playgrounds. Watergames & More recently completed the very first Slide Activity Centre in Europe at the Heuvelrand Swimming Bath in Voorthuizen (Gelderland, the Netherlands).
The possibilities of a Slide Activity Centre are more or less unlimited. The play equipment is modular, which means all sorts of combinations of the components are easy to achieve. Fountains, water slides, water canons and various types of sprinklers can be installed in a variety of compositions to create spectacular water playgrounds. Moreover, this play equipment can be controlled by electronic means so you can surprise and delight children again and again with the interactive fountains and even with a range of sound effects.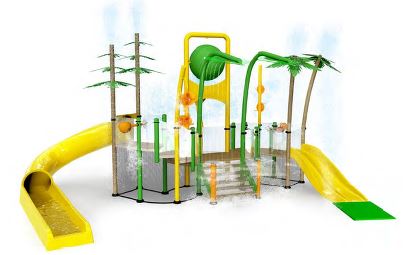 Slide Activity Centre
There is ample choice of standard configurations in a range of themes; however, fully bespoke centres and completely individual themes are also part of the options. Project developers and architects can shape their ideas and find inspiration with the aid of the Waterplay Resource Centre development tool. Watergames & More can grant you access to this tool, which enables you to design the ideal Slide Activity Centre in a playful yet professional way. Lastly, we are ready to contribute our experience and skills to help you incorporate the actual technical and safety requirements.
Waterplay is a regulated brand and guarantees high-quality, long-lasting and safe play equipment. Only the very best materials, such as stainless and a special powder coating (Super Durable Tiger Drylac) are used for the manufacture of our products. A Slide Activity Centre is an enduring investment that will produce years of great fun. It can be fitted into entirely new pools or breathe new life into existing pools.
Watergames & More has plenty of experience with the supply and installation of Waterplay equipment in Northern and Western Europe. We offer overall packages of turnkey deliveries and bespoke solutions. We have made it our mission to enable as many people as possible to enjoy all the fun water can offer.
If this has roused your interest in the many options a Slide Activity Centre could offer, if you are interested in the  Waterplay Resource Centre design tool or if you would like to learn more about our other areas of expertise in water recreation, please don't hesitate to get in touch with us.