Reading time: 1,5 minuut
Of interest to: Watergames, Leisure accommodation, Day recreation and Swimming pools

Looking for a unique slide experience? If so, the new Double Racer slide at Tropical Islands (DE) is just the thing for you! This longest double racer in the world offers a sensational ride, which enables two people to slide down parallel tubes simultaneously. Closely following completion of the Kraki Beach toddler area, this new slide is now ready for use.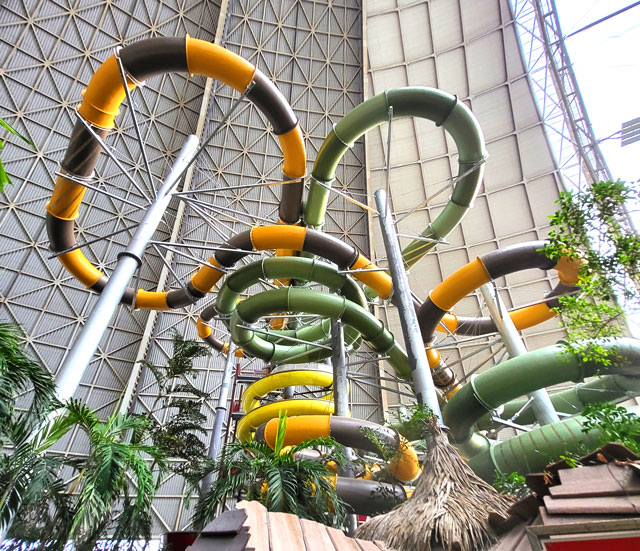 The waterslides have a height of 21 metres and a total length of over 200 metres. They were manufactured using our own moulds, thereby vouching for top quality. We are therefore particularly proud of the end result.
The race is on!
The race commences at a push of the button, which triggers a countdown displayed using red and green lights. When it reaches green, the race is on and you and your opponent battle to complete the ride as quickly as possible. You can even track one another's progress by maintaining eye contact with your opponent along the way!
The scoreboard at the end of the waterslide indicates who clocked the quickest time. Did you lose? Not to worry! There are plenty of reasons to have another go, in search of revenge.
Further information
In short, are you ready for this spectacular experience? If so, visit Tropical Islands and experience the longest double racer in the world! Want to know more about this slide and other water slides from Watergames & More? Feel free to contact us. We would be happy to tell you more about the possibilities. Want to stay informed about our developments? If so, then follow us on LinkedIn or subscribe to our newsletter.
26 Apr 2022 - Projects
Reading time: 1.5 minutes Interesting for: swimming pools Watergames & More has taken on a super cool project for Tropical Islands, Europe's largest water paradise located just south of Berlin. Watergames & More will ...
06 Dec 2022 - Projects
Reading time: 1,5 minutes Of interest to: Leisure accommodation, day recreation and swimming pools. For some time now, a pink giant squid has eagerly watched over a new play area in Tropical Islands (DE). This giant squid is the e...