The summer of 2016 marked the beginning of the construction of a unique waterpark for Camping De Boomgaard in Westkapelle (Zeeland). The waterpark combines three G0H20 waterslides with a Spray Park. The theme gives the waterpark a unique atmosphere. The technical work is set to begin early 2017. The waterpark will be finished at the beginning of coming high season.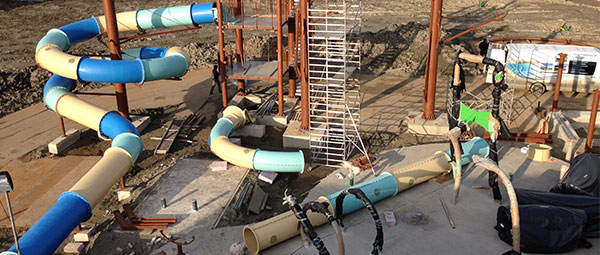 The enormous funnel, part of the largest slide, will be placed this week. The Spray Park is almost complete and only needs final assembly. The last step is to decorate the tower with wood. Odmar van den Berg, General Manager of Watergames & More: 'At the beginning of the summer, we –together with the architects- made a sketch of the final result. It is wonderful to see the design actually coming to life. We worked together with K3H Architecten, Van Dorp Zwembaden and main contractor Bouwbedrijf Meliskerke on the main building. The smooth collaboration between all parties ensures that we are fully on schedule.'
Fun for all ages
The three slides are each for specific age categories. The Waverider is a low and wide slide which flows into the Spray Park and is especially for the smallest visitors. The second slide, the Challenger, is a rapid tube slide for children between the ages of 8-12. The last slide, the Jiggler, is for older children and consists of a spectacular funnel element. The Spray Park unites all elements and is a safe play environment for young children. The Spray Park consists of various fountains, ground sprayers and other playground equipment. Thus, providing the waterpark with something for all ages.
Unique theme
The theme provides a warm and whimsical atmosphere, making use of soft colors and flowing shapes. The steel construction elements are provided with a unique wood texture to give an overall natural appearance. The landscape typical for Zeeland is also a part of the design of the tower which is the starting point for all slides. The tower is modeled after classic Zeelandic barns.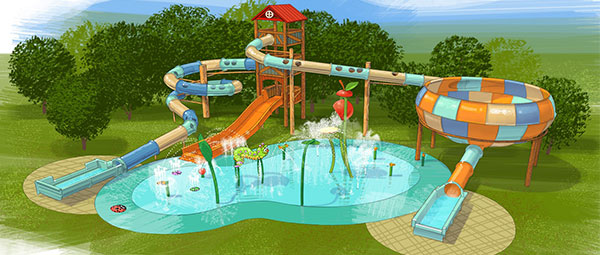 Coming season, Camping De Boomgaard's guests can enjoy limitless water fun in the new waterpark. We wish them, and the guests an excellent season. Would you also like to take your park, swimming pool or campground to the next level? Then please don't hesitate to contact us to discuss the wide range of possibilities!