WaterClimbing adds adventure to your swimming pool. It basically consists of scaling climbing walls that tower up to nine metres above the surface! The climbing walls are accessible to everyone. Even the inexperienced can climb safely, with no need for either an instructor or climbing equipment.
Have you reached the summit? Simply plunge back into the water, then! WaterClimbing is the water attraction that combines sports, games, adventure and fun in one spectacular item of equipment for young and old alike.
Active play on the water
There are several WaterClimbing walls available. And the range was extended quite considerably this year. Whereas a minimum pool depth of three metres was previously required, there are now also solutions for pools just 1.80 metres deep. Furthermore, the new models are fixed to the deck, rather than the wall of the pool itself. This solution is not only aesthetically pleasing, but can also be implemented more practically and swiftly. In fact, it can even be installed without emptying the pool. This saves time and money. All WaterClimbing walls feature several climbing routes, which are picked out in different colours. Versions of the walls are available for both indoor and outdoor pools. Their steel structure is made of stainless steel, and can be supplied in various RAL colours. The (boulder wall) climbing surface is available in either a transparent, matte or milky finish.
WSI/WSO climbing wall
Traditional climbing walls remain a sound option when it comes to transforming your pool into an adventure playground. The equipment in the WSI/WSO range is fixed to the pool wall and is available in heights ranging from four to seven metres. Furthermore, indoor and outdoor versions of all models are available.
WUI/WUO climbing wall
As all the latest models are fixed to the deck, the pool itself requires no modification. Moreover, this new system enables the construction of climbing walls above pools with a depth of just 2.0 metres. This range comprises both small-scale solutions and quite large climbing walls. In fact, WaterClimbing has reached new heights with the introduction of a climbing wall of no less than 9.5 metres high!
WDI/WDU climbing wall
Add an extra dimension to the fun of climbing by installing a WDI/WDU climbing wall with a roof element. Climbing upside-down is even more of a challenge, which also creates a highly adventurous impression. Despite its challenging characteristics, this climbing wall has a pretty small footprint. It is even suitable for installation above pools from just 1.80 metres deep.
WSI-U/WSO-U climbing wall
The WSI-U / WSO-U is highly ingenious. This climbing wall is equipped with a retractable base section. Once the base section is folded away, the climbing wall becomes inaccessible. Moreover, as the base is fixed to the deck, the wall then occupies no pool space whatsoever. This implies that the pool can also be fully utilised for swimming. With its base section extended, however, the climbing wall poses an exciting challenge to young and old alike. The minimum pool depth required for this climbing wall is 3.30 metres.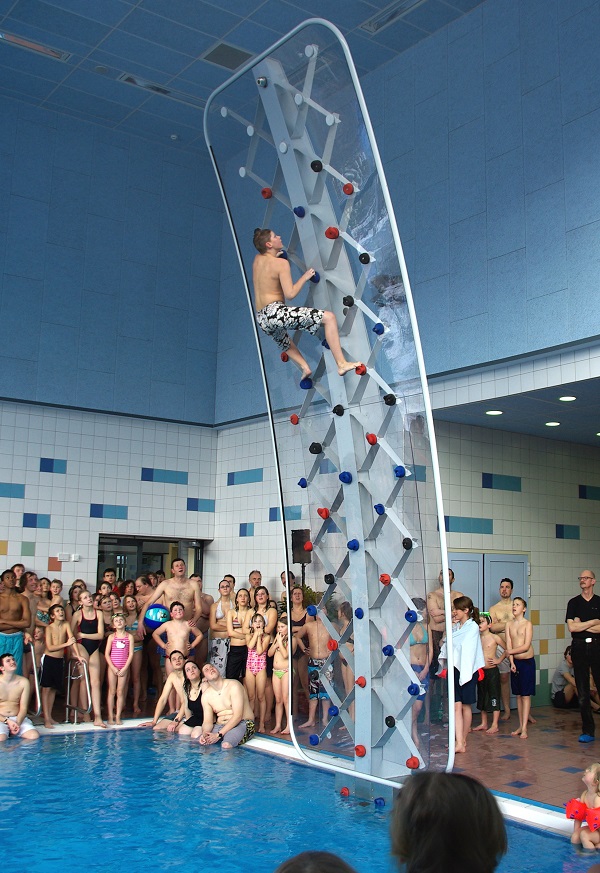 A highly adventurous addition to your swimming pool
Watergames & More sets great store by safety and sustainability. All WaterClimbing products are extensively tested and fully certified by TÜV (Technischer Überwachungsverein). In addition, they comply with DIN 79001, the safety standard for climbing walls in swimming pools. Furthermore, the highly innovative WaterClimbing designs received the prestigious German award known as the Stahl-Innovationspreis 2009.
Want to receive more inspiration or information?

+31 (0) 629 55 66 62

Downloads
Various documents, catalogues and brochures follow below, which contain information about our supply programme and products. Are you looking for specific information that is not contained in the downloads? If so, please do not hesitate to get in touch with us via the contact page.