Products
Flotí inflatables
Flotí's inflatables provide endless play fun on water: from large and long Pool Tracks to stand-alone equipment, such as the Mountain Slide and the Rolling Runner. The elements supplied by Flotí are distinguished by their exceptional quality and modular structure. They can therefore be interconnected and substituted for one another highly conveniently.
There is no doubt that Flotí is your best option when it comes to making a smart, reliable, environmentally friendly and worthwhile investment in your water park.
All seams are (thermo)welded and there are no adhesive joints. The elements are manufactured from multi-layered nylon-reinforced PVC or TPU. This makes for both a highly sturdy structure and durable quality. Safety valve caps prevent elements from being deflated in the water, thus vouching for the safety of playing children and adults alike.
Flotí Premium
Flotí Premium offers the following advantages in case of intensive use:
TPU is and environmentally friendly material
Superior resistance to both high and low temperatures
Reduced susceptibility to erosion
TPU does not wrinkle when folded and is lightweight.

Flotí Pool Courses
This range of products was specially developed for the proprietors of commercial leisure sites and swimming pools. Thanks to the entirely modular design concept, these Pool Courses can be fully customised to your requirements and assembled in any order.  Or you may prefer to opt for one of the two standard Pool Courses, on which we offer keen package deals. Flotí's inflatable elements enable you to swiftly and conveniently build a spectacular obstacle course on the water. Furthermore, you can easily create a different course by simply changing the sequence of the elements.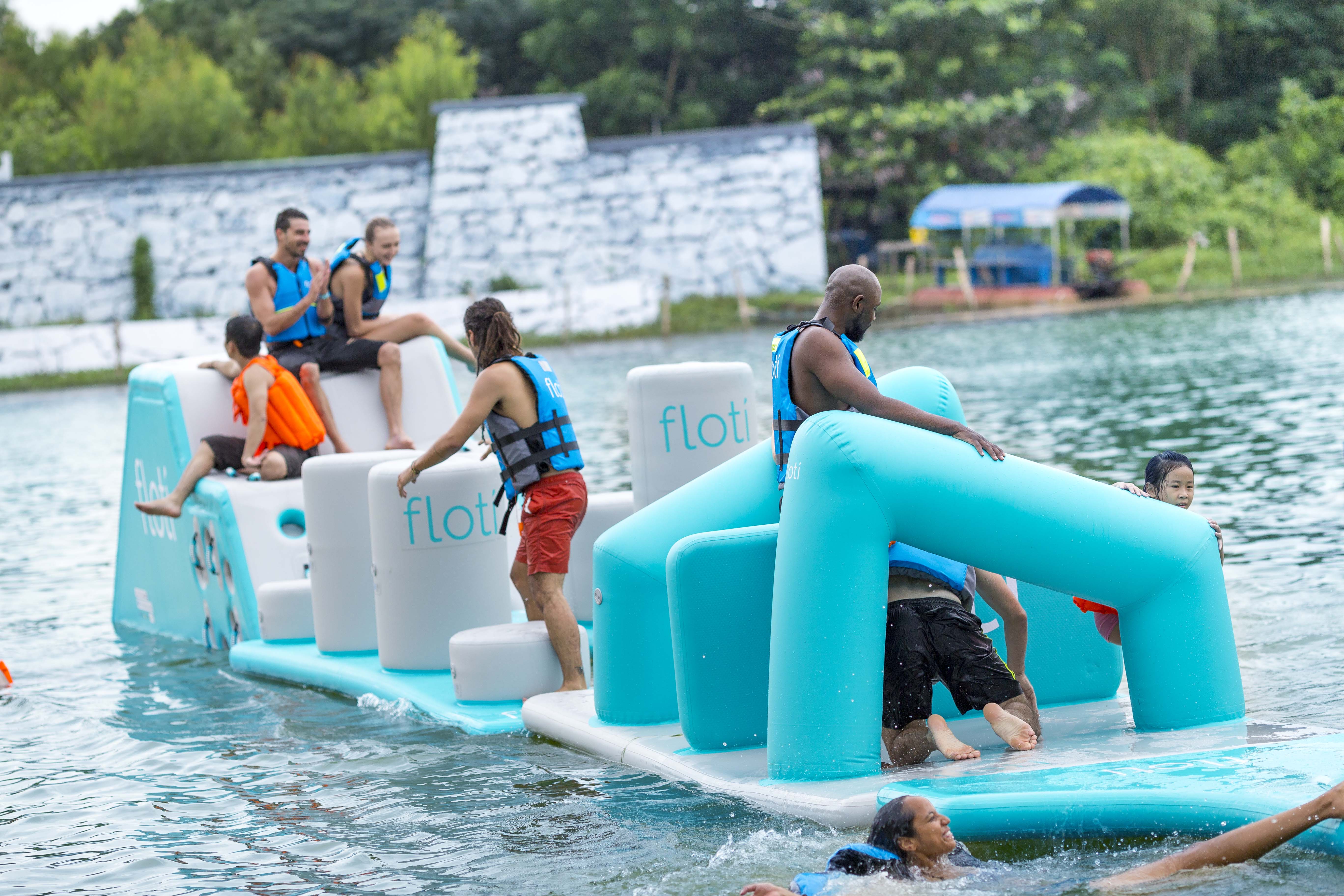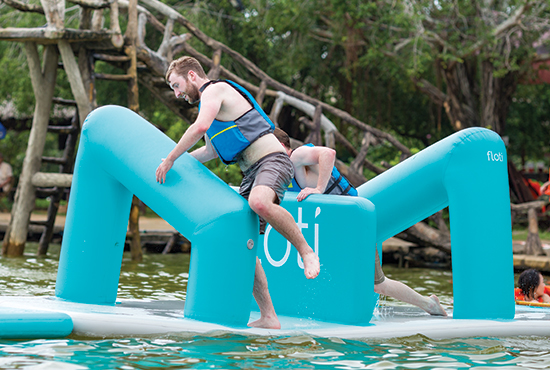 Flotí Inflatables
Flotí's inflatables enable you to swiftly and conveniently construct a spectacular aqua park on the water. Issue the challenge to adults and children alike to slide, climb and, clamber over the exciting trampolines, climbing elements and slides. These stand-alone Flotí elements offer the opportunity to construct an appealing attraction, the costs of which can also be swiftly recovered. Furthermore, the commercial operation a larger aqua park will yield a quick return on your investment. Our appealing earnings model enables you to recoup your investment within a single season. You can therefore transform your aquatic area into a sensational water paradise in the blink of an eye. The products are suitable for use in swimming pools, lakes and even on the sea.

PVC - TPU
Flotí endeavours to use only PVC materials of the highest quality, rather than simply settling for the standard option. Flotí's production team also comprises experienced and specialized members, who thoroughly inspect the factories regularly, thus vouching for high production standards. The materials used are extensively tested and certified by a third party before being put into production.  Flotí has several test centres throughout the world, where its products are tested extensively in different environments and at various temperatures. The tests are carried out by a third party, with a view to guaranteeing objectivity.
Mission
Flotí's mission is to supply the world with incredibly fun and safe inflatable play structures for both young and old. Moreover, Flotí prefers to forge long term relationships by conducting business in an honest and sustainable fashion. Despite the fact that Flotí is a relatively new company, its team comprises specialized employees, who jointly boast over 100 years' experience in producing materials for inflatable products.
Excellent Service
We consider it vital to provide service of equivalent quality to our attractions, and feel this should be evident to you. On purchasing a Flotí inflatable – no matter how small – you therefore also receive a repair kit and the basic fixing materials required.  You are welcome to consult us on matters concerning the particular regulations applicable for use of your Flotí products, while we would be pleased to advise you on how best to secure them, free of further charge. All part of the service! Incidentally, we also offer you the option of complete turnkey delivery your Flotí product, including proper anchoring. Furthermore, we remain at your disposal following delivery, to address any queries and proffer advice.
Want to receive more inspiration or information?

+31 (0) 629 55 66 62